KBIS is one of the most influential professional kitchen and bathroom exhibitions in the world-OUBAO FAUCET
Share
publisher

Admin
Issue Time

2019-11-30
Summary
KBIS is one of the most influential professional kitchen and bathroom exhibitions in the world.OUBAO FAUCET KITCHEN FAUCET,Basin Faucet,Shower Faucet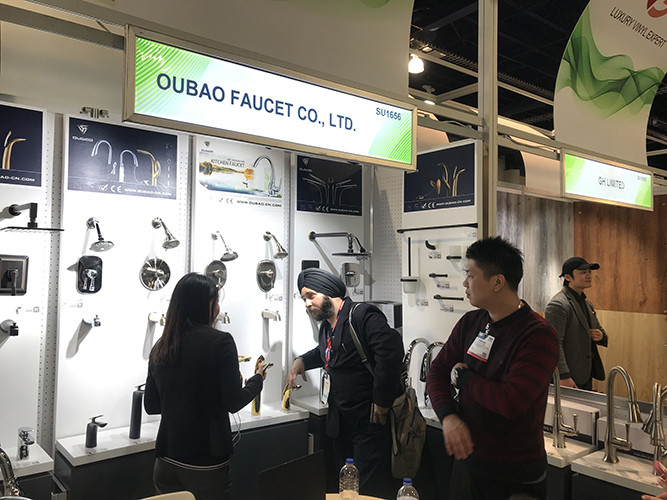 KBIS is one of the most influential professional kitchen and bathroom exhibitions in the world.
The American KBIS is a large-scale professional kitchen and bathroom industry exhibition. It is held annually by the American National kitchen & Bath Association (NKBA). It was first held in 1963 and is the 57th in 2020.
Professionalism: The exhibition has two exhibition areas, kitchen and bathroom. It displays the world's new and creative kitchen and bathroom products. Every year, it attracts famous enterprises from the industry to display novel products and designs, and communicate with customers and peers. The exhibition also offers a wealth of lectures, lectures, and professional training courses. According to the survey of Yingtuo Exhibition, participating in the exhibition will not only bring business opportunities to overseas markets, but also provide an information platform for exhibitors to exchange technology and maximize the core competitiveness of the company's products.
Strong attraction: KBIS and the Las Vegas International Builders' Show (IBS) were held in the same hall to form a large-scale exhibition event of Designand Construction Week, which will gather building materials and kitchen during the three-day exhibition. The bathroom is integrated into a professional and powerful docking platform for exhibitors from all over the world.
Advantage Pavilion: KBIS is held in Orlando and Las Vegas in turn. In 2020, KBIS will be held in Las Vegas in the same way as in 2019. The booths will be located in the Center Pavilion, South Hall and North Hall. The economic location of Las Vegas will attract more quality exhibitors and professional merchants, which is an excellent opportunity for Chinese companies to enter the US market.
According to the statistics of the US Department of Commerce, in January 2018, the bilateral import and export volume of US and China was US$55.62 billion, an increase of 8.1%. Among them, the United States exports to China 9.84 billion US dollars, down 2.3%, accounting for 7.9% of the total US exports, down 0.7 percentage points; the United States imports 45.79 billion US dollars from China, an increase of 10.7%, accounting for 22.5% of the total US imports, an increase of 0.2 percentage point. The US trade deficit was 35.95 billion US dollars, an increase of 14.8%. As of January, China is the second largest trading partner of the United States, the third largest export market and a large source of imports. According to the SHOWGUIDE exhibition navigation survey, 100 million households own their own houses, and 85% of the houses were built before 1980. Home improvement is an important driving force. More than 50% of Americans want to renovate their bathrooms or kitchens, and the budget is high. The average budget for the kitchen renovation contract was 170,000, and the bathroom was updated about 70,000, reflecting the strong demand for home building materials from American households.
In the US building materials retail market, there are 20,000 tool shops, more than 56,000 family centers and more than 9,000 timber stores, which focus on the repair and maintenance of their own homes. In 2016, the demand for window and door market in the United States will increase by nearly 10%: the growth of plastic doors and windows is fast, the average annual growth rate is close to 12%, metal doors and windows account for a large share of all doors and windows, and the demand for solid wood doors and windows will increase by 10.2%. The rebound in the US construction industry will boost demand for green building materials to 11% per year, and will reach $86.6 billion by 2017.
Range of exhibition
1. Kitchen equipment: kitchen furniture, kitchen supplies, kitchen appliances, ventilation, cabinets, sewers, etc.;
2. Bathroom and toilet equipment: all kinds of sanitary ware, basin, toilet, shower room, bathtub, shower, faucet and accessories, bathroom lighting, mirror, hardware pendant, etc.;
3. Hardware accessories: faucets, plumbing equipment, sanitary ware hardware accessories, doors and windows and door and window hardware fittings, aluminum alloy doors and windows, valves, fasteners, standard parts, pipe fittings, nail mesh, etc.;
4. Water utilization device: water filtration, water protection, water sealing device and accessories;
5. Kitchen and bathroom decoration materials: various decoration and decoration materials for kitchen, bathroom and bathroom.