How to install a single hole kitchen faucet with sprayer?
Share
Issue Time

2020-10-21
Summary
Learn how to install a single hole kitchen faucet with sprayer, so as to make the faucet installation easier.
How to install a single hole kitchen faucet with sprayer?
OUBAO kitchen faucet is easy to install by yourself.As you follow our kitchen faucet with sprayer installation direction information to install.You just need to prepare screwdriver and adjustable wrench.

Please follow next steps:
Step 1
Single Hole Kitchen Faucet Installation
Position the kitchen faucet in order on the counter top as shown.
Assemble gasket assembly and lock nut to kitchen faucet threaded
Sleeve by hand and tighten the screws with screwdriver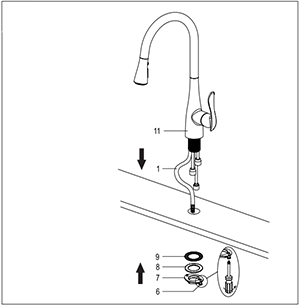 Connect the shower hose to quick connect. Thread the washer and lock nut onto the tail piece from underneath the sink. Make sure the kitchen faucet is properly aligned and tighten the nut with your adjustable wrench.
CUATION: MAKE SURE THE HORSE IS PROPERLY ENGAGED ANDSECURED IN THE QUICK CONNET
Dis-assemble the weight and put it on the kitchen faucet shower hose.Then fix screws by screw driver.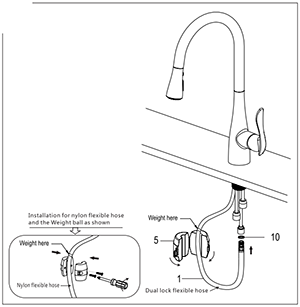 If an escutcheon is included, place it over the mounting hole. If there is no decorative plate, move on to the next step.
If an escutcheon is included, thread the faucet through the countertop or sink mounting hole.
Connect the flexible hoses to water supply valve, and tighten it with adjustable wrench.
DON'T OVER TIGHTEN!
Caution:make sure connect the hot and cold flexible hose to supply valves correctly.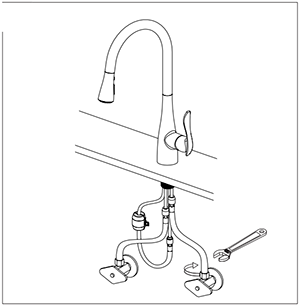 Step 2 Checking and Testing
Remove the kitchen faucet shower by hand.Turn the faucet handle all the way on,turn on hot and cold water supply and flush water lines for one minute.Rein-stall shower by hand.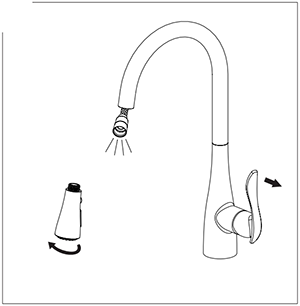 Check all connections at arrows for leaks,re-tighten it if necessary.When the kitchen faucet installation is complete, turn on the water supply. Check it up to make sure that all connections are tight (no water should be leaking), and that the hot and cold supplies are working correctly.
BUT DON'T OVER TIGHTEN!
Single hole kitchen faucet daily cleaning and care required in order to keep the product shining and properly working.
1. Clean it with water and dry it with soft cloth.
2. Clean the product with gentle liquid or glass cleaner.
3. Don't use acid cleaner.
4. Don't clean with abrasive material,abrasive paper or knife.
Please DO NOT disassemble any part from product when open the box,otherwise it may cause functional problem when using.
If you receive the physical product and there are subtleties is not consistent with the picture,because we do upgrade improved products to make the products more beautiful and lasting longer.