6 Trends in New Kitchen Faucets for 2021
Share
Issue Time

2021-03-13
Summary
Touchless technology, mixed metals, etched details and matte white are featured in new kitchen sink faucets at the KBIS trade show.
6 Trends in New Kitchen Faucets for 2021
(Data comes from Houzz.)
Though technical difficulties shut down the all-virtual 2021 Kitchen & Bath Industry Show early, many of the exhibitors pressed on, announcing their latest product offerings, hosting live events and sharing videos and online catalogs. Houzz spoke with many of the exhibitors and sifted through countless photos of new products to find the latest trends in kitchen faucets. Here are eight faucet design trends happening now.
1.Touchless Options
While touch kitchen faucet have been around for years, the pandemic has heightened demand from homeowners who are eager to prevent germs from spreading within their homes.
Touch On. Touch Off. Messy Hands?
Touch Anywhere on the Kitchen Spout with Your Wrist or Forearm to Start and Stop the Flow of Water or Use the Single Lever Handle Manually.
2.Integrated Pull-Down Sprayers
In previous years, many integrated pull-down sprayers had a clunky look, but new offerings are seamless and sleek. These sprayers are a popular feature among homeowners, and manufacturers have responded with a wider range of styles, finishes and improved technology, such as spray boosters and well-designed docking capability.
For example, the pull down kitchen faucet by OUBAO, shown here, uses a magnetic docking system to keep the spray nozzle head secured firmly to the spout.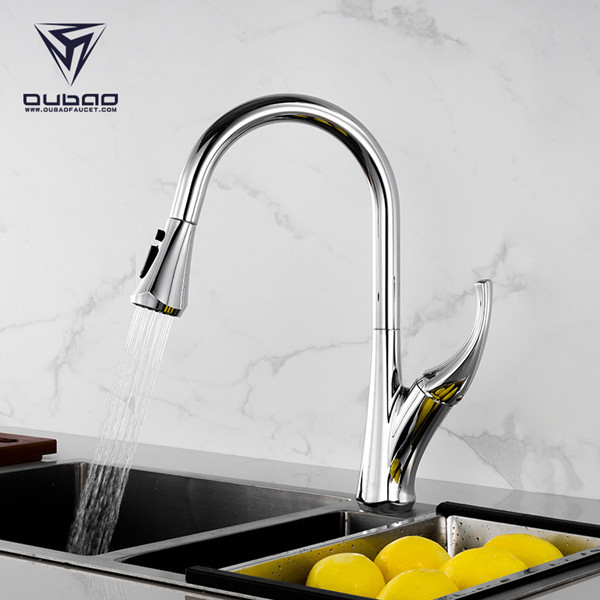 MAGNETIC DOCKING
MagnaTite Docking uses a powerful magnet to snap your kitchen sprayer into place so it stays docked and doesn't droop over time like other kitchen faucets

Faucet designers are also addressing another important issue: ergonomic function for people with varying abilities. The faucet shown here extends farther out over the sink than a standard faucet, making it easier to reach and use.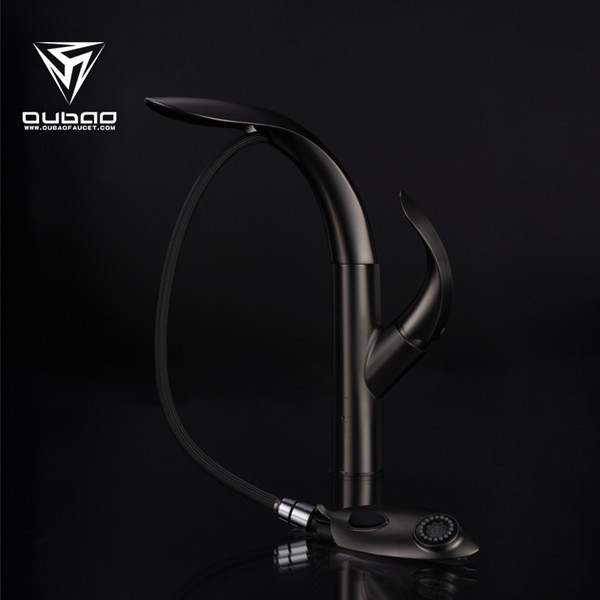 Pull Out Kitchen Faucet

360 degree swivel nozzle with pull out hose supply full range of washing for your kitchen sink.
3.Two-Tone Faucets
Mixing and matching finishes continues to be a strong trend that helps homeowners personalize their kitchens. Kitchen designer Rebekah Zaveloff says mixing metals helps make a kitchen trend-proof as different finishes fall in and out of favor.
In addition to choosing different finishes for plumbing fixtures, light fixtures and cabinet hardware, homeowners now have the option of mixing two different finishes on a kitchen sink faucet.
Shown here is a single handle kitchen faucet from OUBAO's new Tone collection that combines matte black and polished chrome. For those who prefer luxury tones, the faucet also comes in a combination of white and gold finishes.
4.New Twists on Professional-Style Faucets
Tall professional-style kitchen faucets with integrated pull-down sprayers have been taking faucets to new heights — literally. These kitchen sink faucets, typically more than 20 inches high, have altered the scale of faucets that designers and their clients find acceptable in a kitchen.
What's new about professional-style kitchen faucets is that they've evolved far beyond the utilitarian silhouettes in stainless steel or polished chrome offered by restaurant suppliers. Faucet designers have responded to consumer demand for popular finishes, more elegant looks and personalized style.
The contrasting finish on OUBAO silicone kitchen faucet, shown here, the design comes from a red-crowned crane, let's look carefully, we can find this design is for the low body part of the red-crowned crane. Homeowners can customize the faucet by choosing an accent finish in polished chrome, polished nickel, titanium gold or matte black.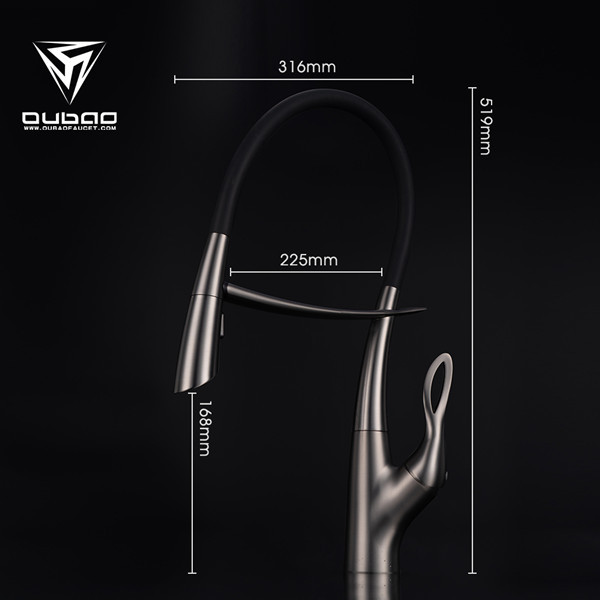 Unique Design
Tulip kitchen faucet design make your kitchen room simple and fresh,easy to match most sink.

5.Spray Options
A few manufacturers announced improvements in spray power and spray type for kitchen faucets. OUBAO's design kitchen faucet has three different sprays: Includes stream, Pause, and Sweep Spray technologies.
3-Function Spray Head
Steam mode,perfect for filling pots and pans,reduces spaller.
Sprayer mode,create a wide,powerful water for better cleaning.
Blade mode,for some inner dirt,superior cleaning with blade mode.
Pause allows you to increase flow rate by 30%. Sweep Spray has angled nozzles that create a powerful blade to clean your dishes and sink.
Aerator with Power
Pause
technology offers a faster clean and faster fill with the push of a button.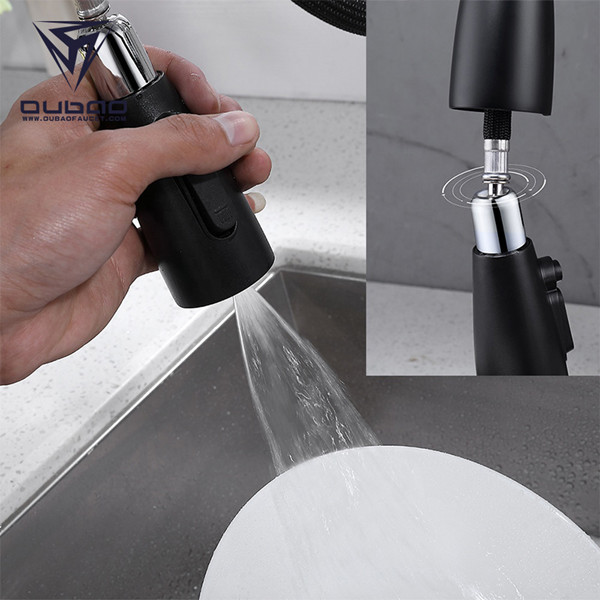 Three spray modes to meet all your kitchen faucet needs.Its spray head is pull-out, making it easier for you to clean your stuff.
6. New Finishes
Choosing an unexpected faucet finish is a great way for homeowners to show personal style. For those who are drawn to the dark finish of matte black but prefer something shinier for a kitchen faucet, check out gunmetal black. This new finish from OUBAO, shown here on its faucet, resists water spots and fingerprints.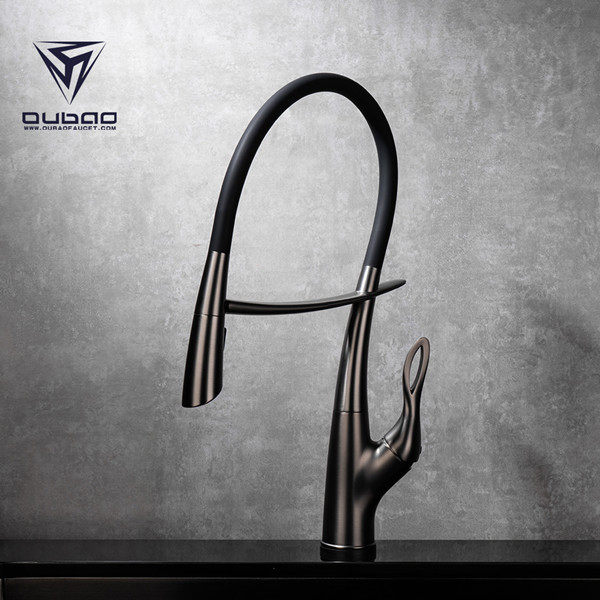 Almost every faucet company now offers the popular matte black finish, but matte white seems destined to shake things up. It's a finish we saw a bit of in 2020, and this year other manufacturers are jumping on board. OUBAO's new minimalist kitchen faucet shown here comes in matte white. The simple, graceful curved design also keeps a low profile.