OUBAO Live Show-Market trends technology/color kitchen and bathroom faucets.
Share
Issue Time

2021-03-26
Summary
On March 20,2021,Beijing time,Oubao Sanitary Ware Marketing,carried out the second live show after holiday.This is about market trends and new technology/color products like kitchen faucets.
OUBAO Live Show-Market trends technology/color kitchen and bathroom faucets.
On March 20, 2021, Beijing time, Kaiping Oubao Sanitary Ware Hardware Co., Ltd. carried out the second live show after the Chinese New Year holiday.
They showed totally different this time.
The live streaming also begins with a factory introduction.
KAIPING OUBAO SANITARY WARE HARDWARE company is a factory which professional manufacture kitchen faucets, bathroom faucets, shower faucets,bathroom accessories,faucet accessories for over 16 years.
①The markets OUBAO focus on
From the video you can see OUBAO's factory with large production equipment .Furthermore, they are a professional manufacturer committed to R&D developing , producing,marketing for modern designs and high quality faucets. And which markets around the world OUBAO sell and focus on?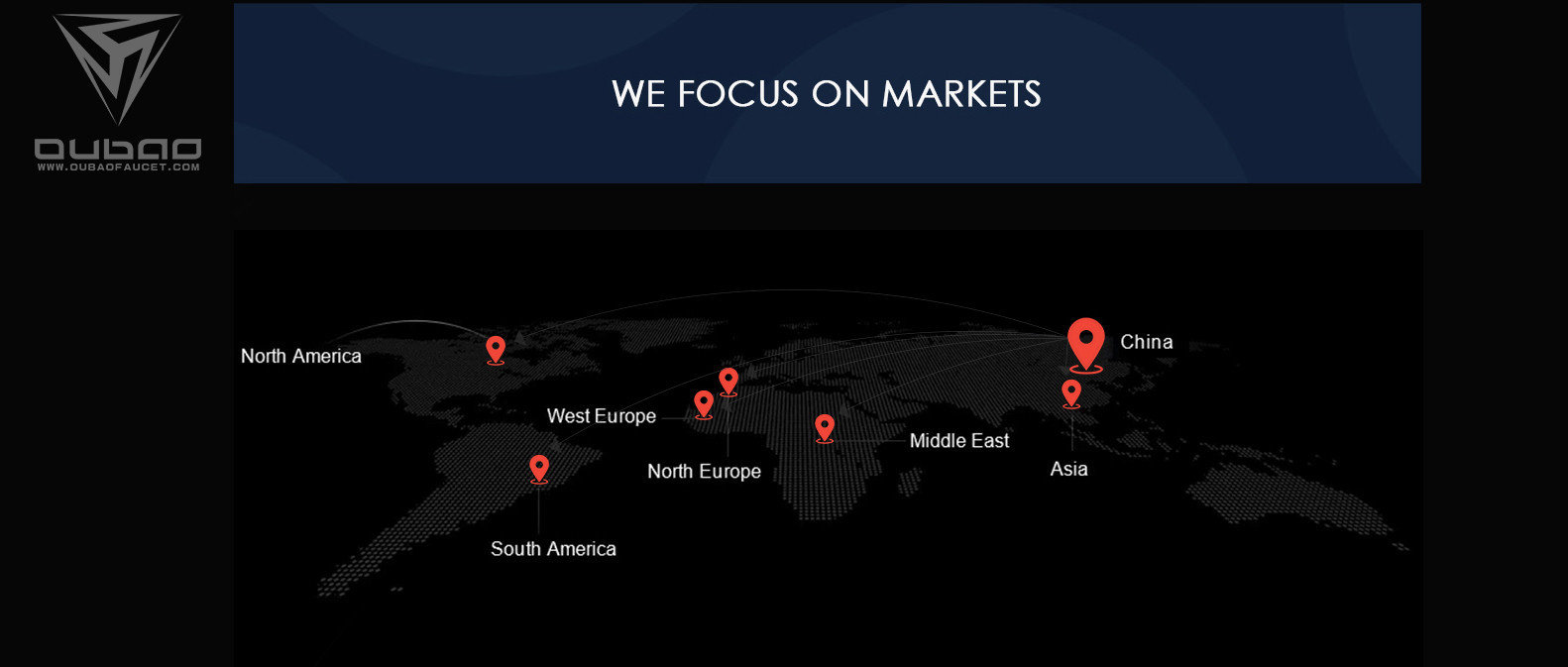 OUBAO located in Kaiping shuikou town in China. They sell in domestic market and 70% of the these are exported to abroad countries. For the oversea markets, OUBAO focus on west and north Europe,middle east, North America, South America, Asia etc.
②Company's Core
OUBAO is looking for brand cooperation partners around the world.

③ International certificates
OUBAO have certificates like cUPC, NSF-61, LOW lead and CE. For cUPC, NSF and low lead, there are more than 126 items and approval with 7 colors. And more than 500 items for CE certificate.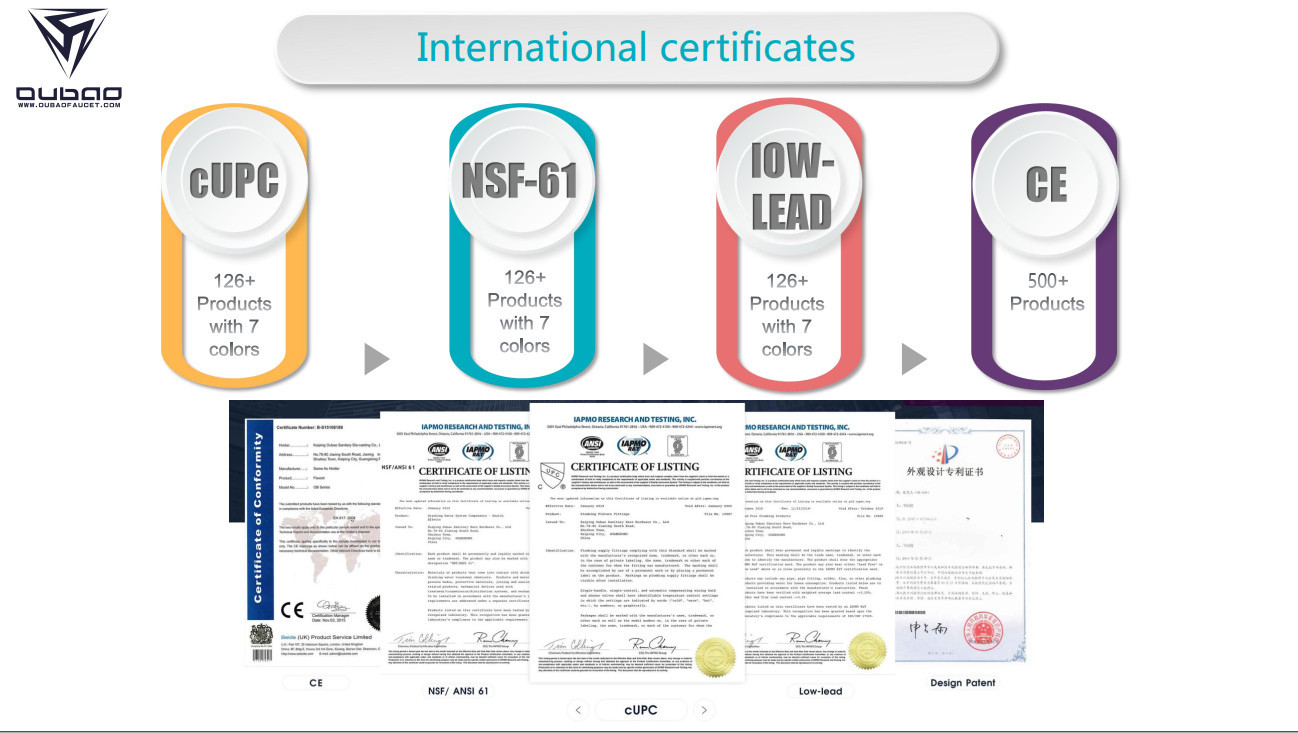 ④Patent certificates
They are the original designer and most of products own the patent certificates. There are more than 100 items own the appearance design patent. They own 2 utility patent for functional R&D design, these are the most powerful to prove the design ability. And OUBAO have more than 1000 molds. Here you can see the mold room.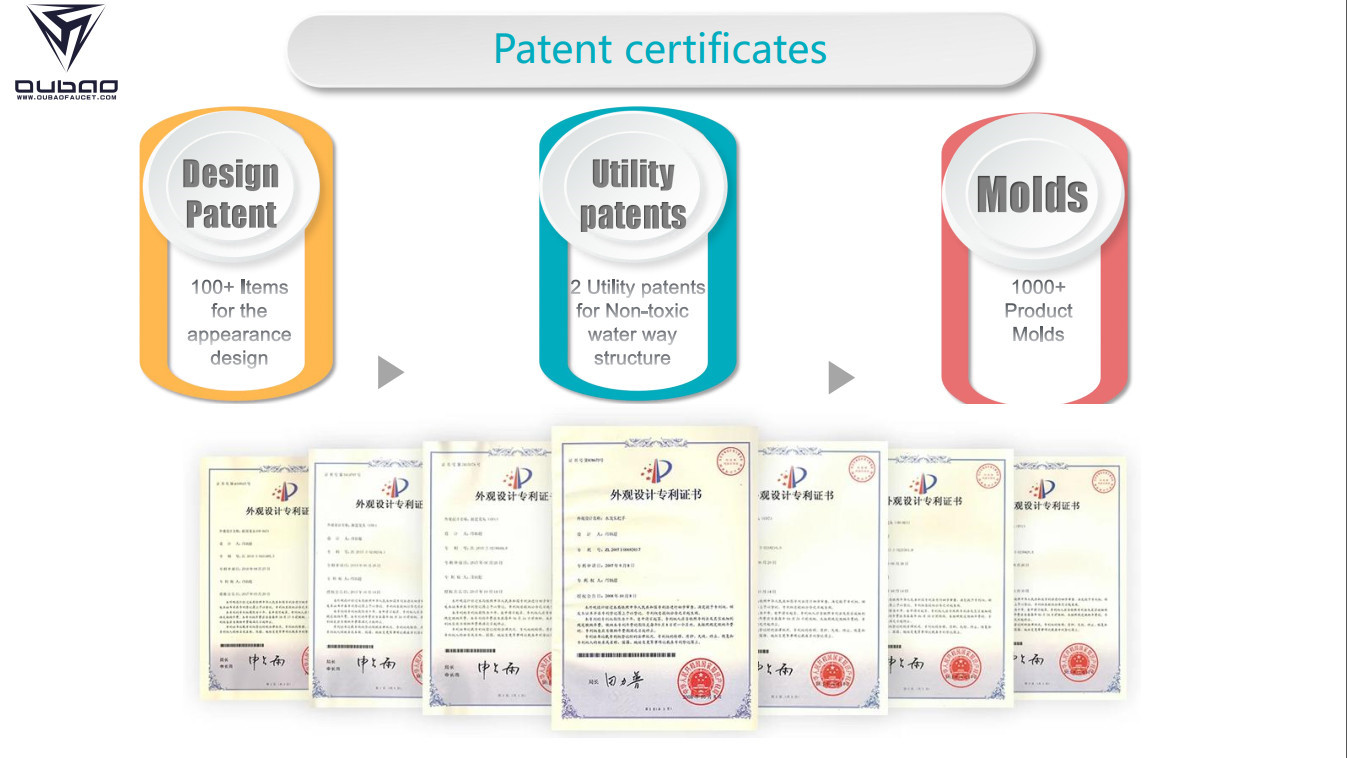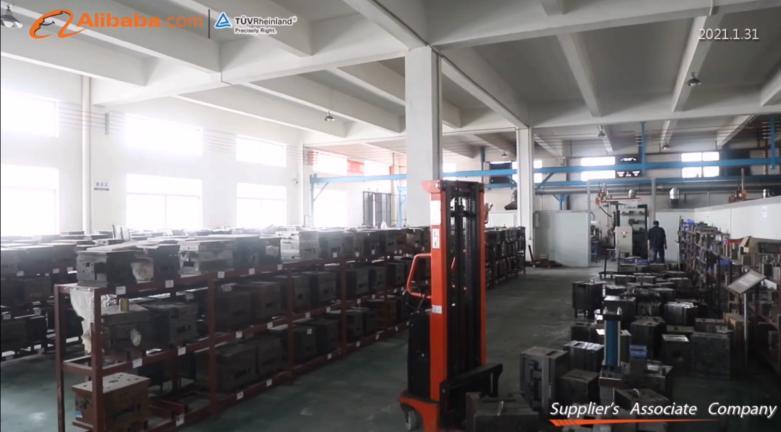 And next they shared with you the market trends - they mainly focus on young age group.
This is one of the analysis from United states. It shows the effect of COVID-19 ON U.S. consumer spending on online marketplaces by age groups. There are 44% of U.S. consumers in the 30 to 44 age expected they would increase spending on goods from online marketplaces as a result of the coronavirus pandemic.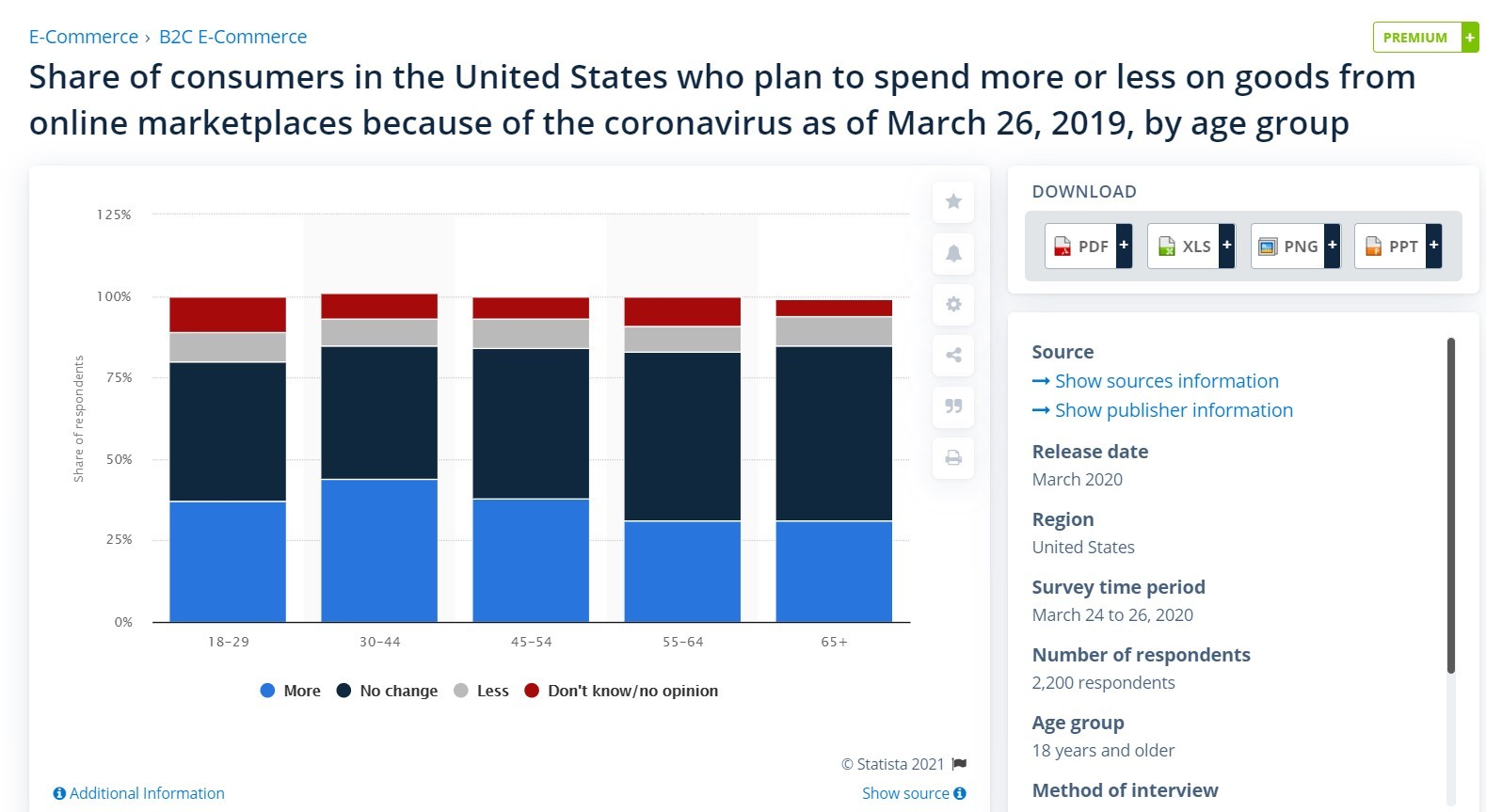 And this is the analysis from Great Britain.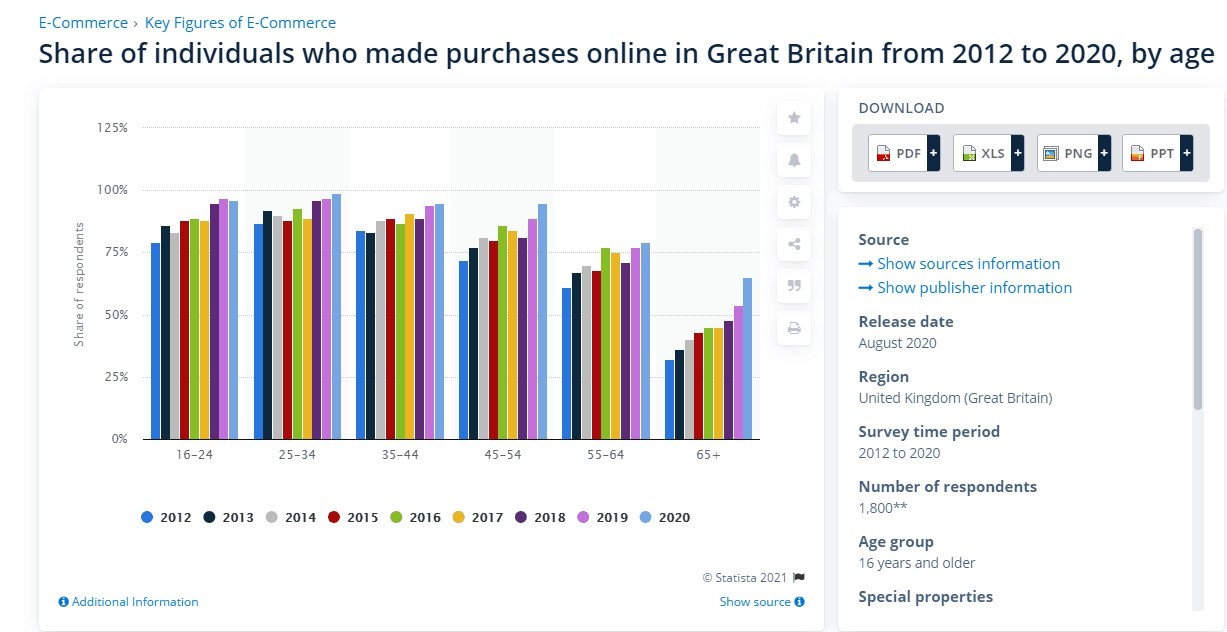 Here we learn that the age at 16-34 is the biggest consumer groups.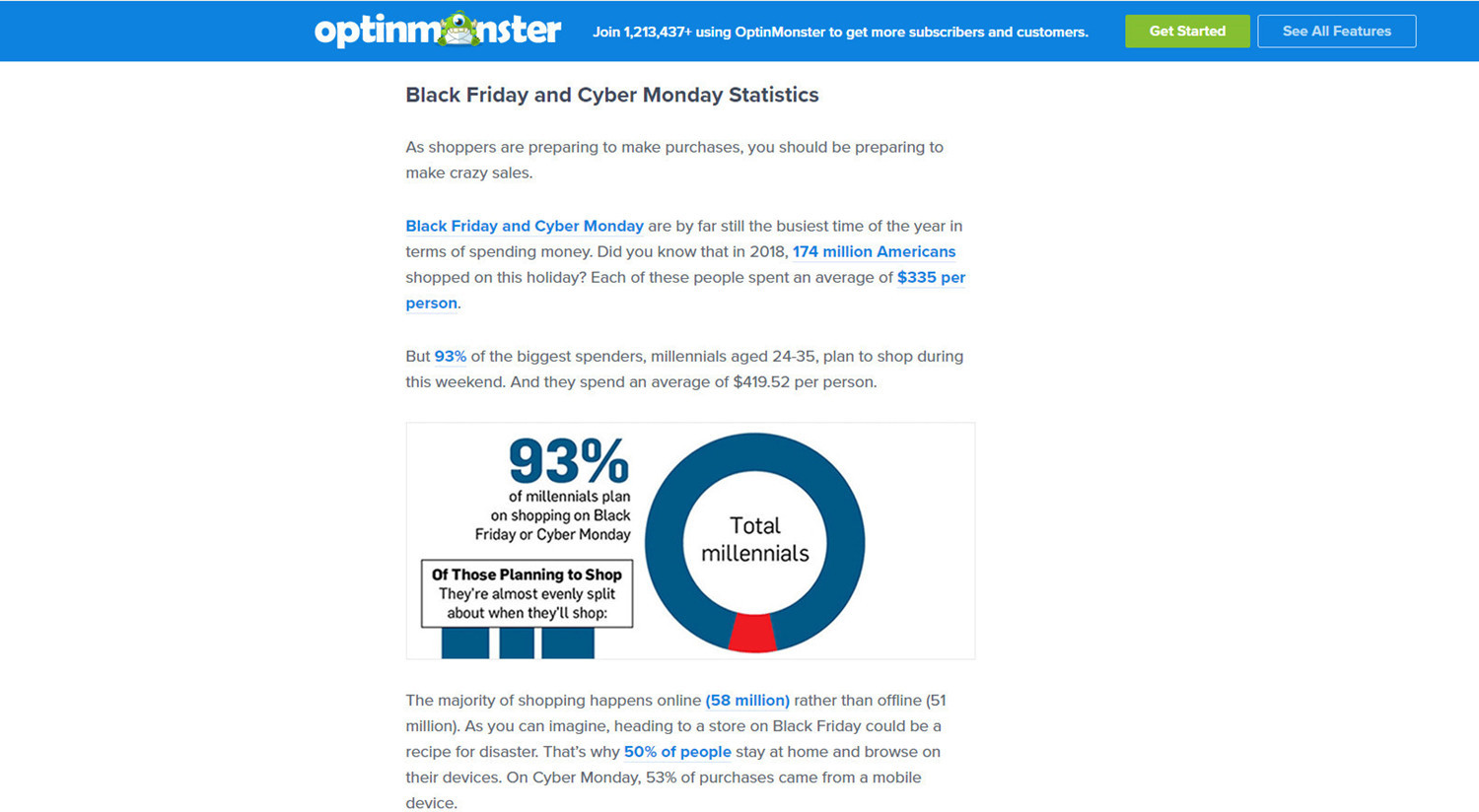 The last one is the analysis from USA. Show us the data of age groups shopping on Black Friday.
93% of the biggest spenders,aged 24-35 plan to shop.
From the data we can figure out the Market Trends in 2021:
1. 80s&90s groups are the biggest consumers spending around the world market
2. High increased shopping online since the coronavirus pandemic 2020.
In 2023, E-Commerce retail purchases are expected to rise from 14.1% to 22%.
88% of customers think detailed product pages are crucial for making a purchase decision.
Above are the official analysis to show us the market trends on Young age groups.
Sanitary Ware Market Focus on"Young groups"
And for the sanitary ware market, the consumer group is also the same. So for the hotel projects, the house buildings and the public facilities such as public toilets, the builders are more prefer to choose the items that the young groups like. OUBAO is working hard to meet the demands of the market. So what they have? Let's have a look at following.
FIRST - the Series Products for Hotel Projects.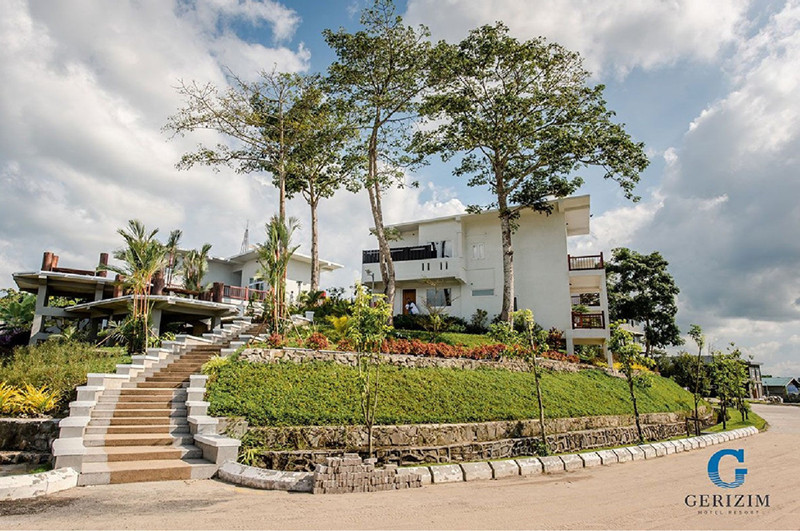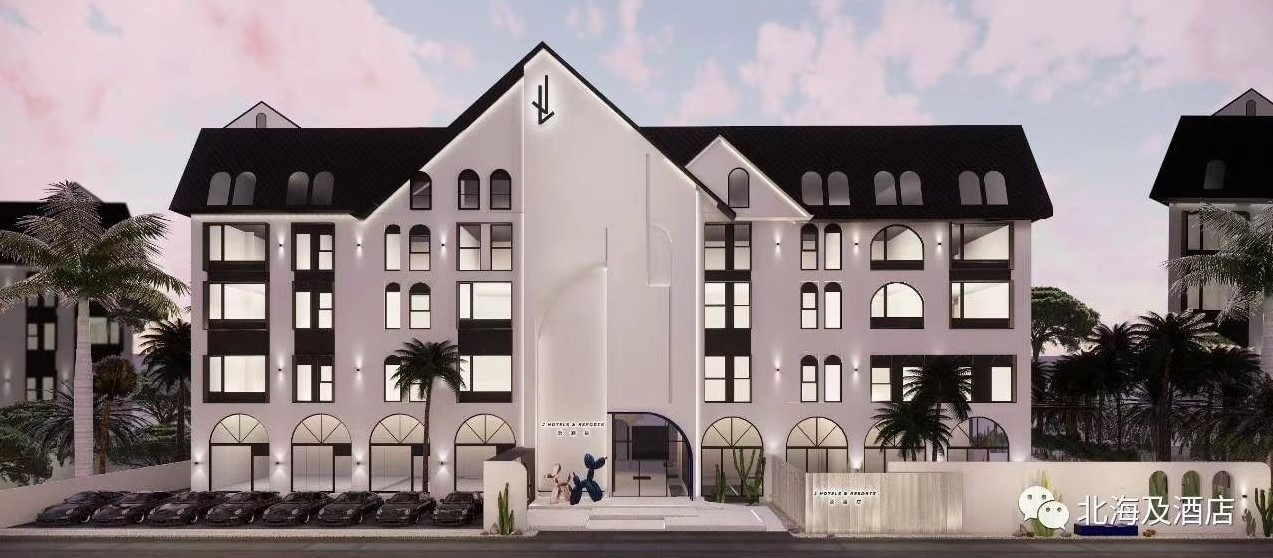 This is their successful Hotel project, Gerizim Hotel/OUBAO Successful Hotel project--J HOTELS & RESORTS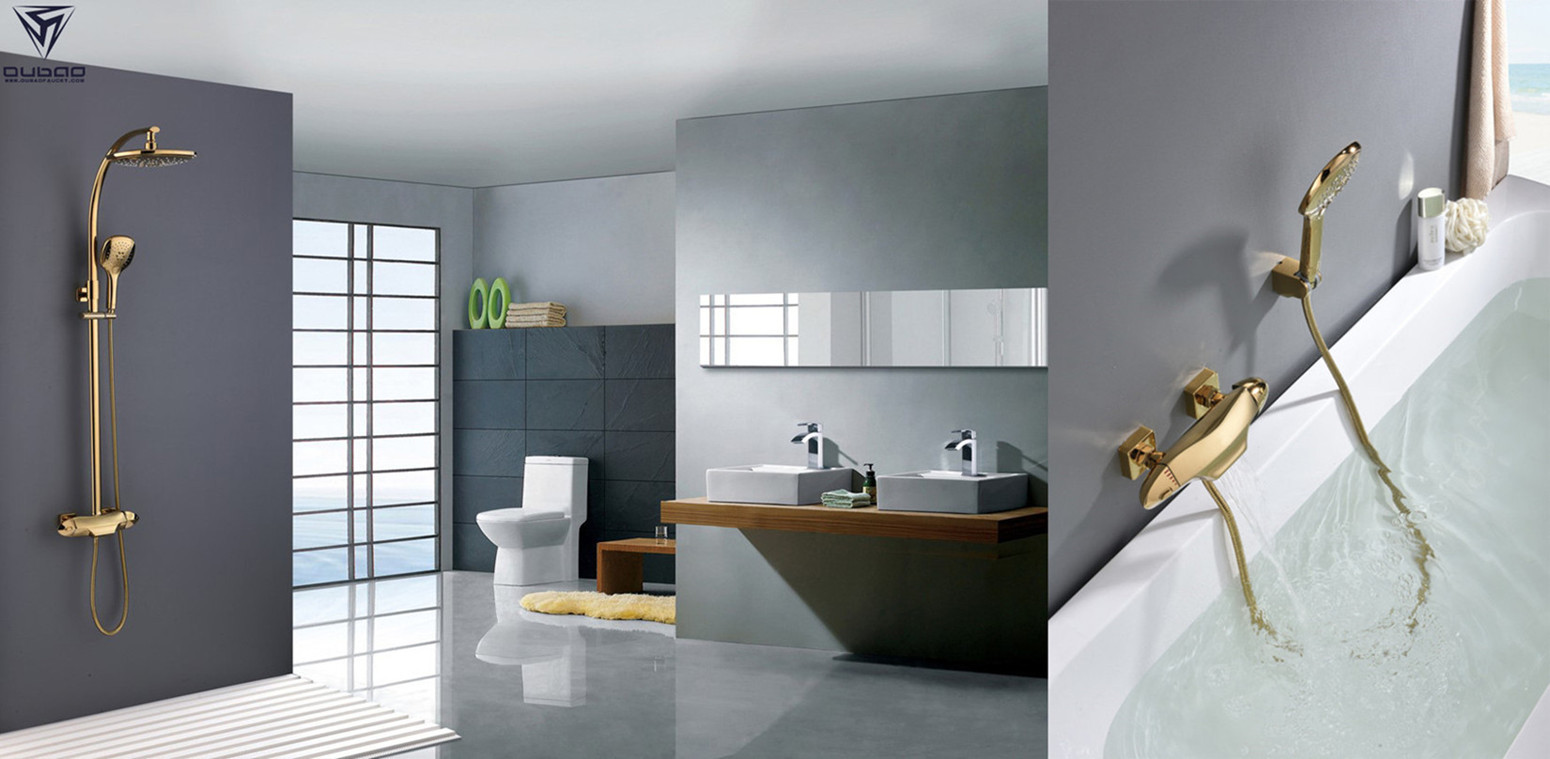 OUBAO Series Faucets for hotel projects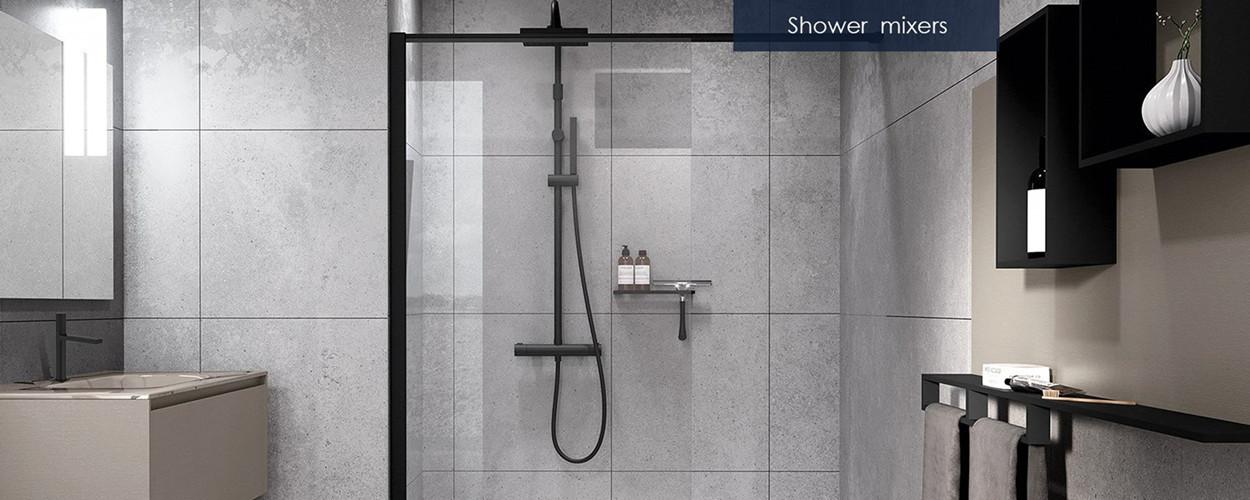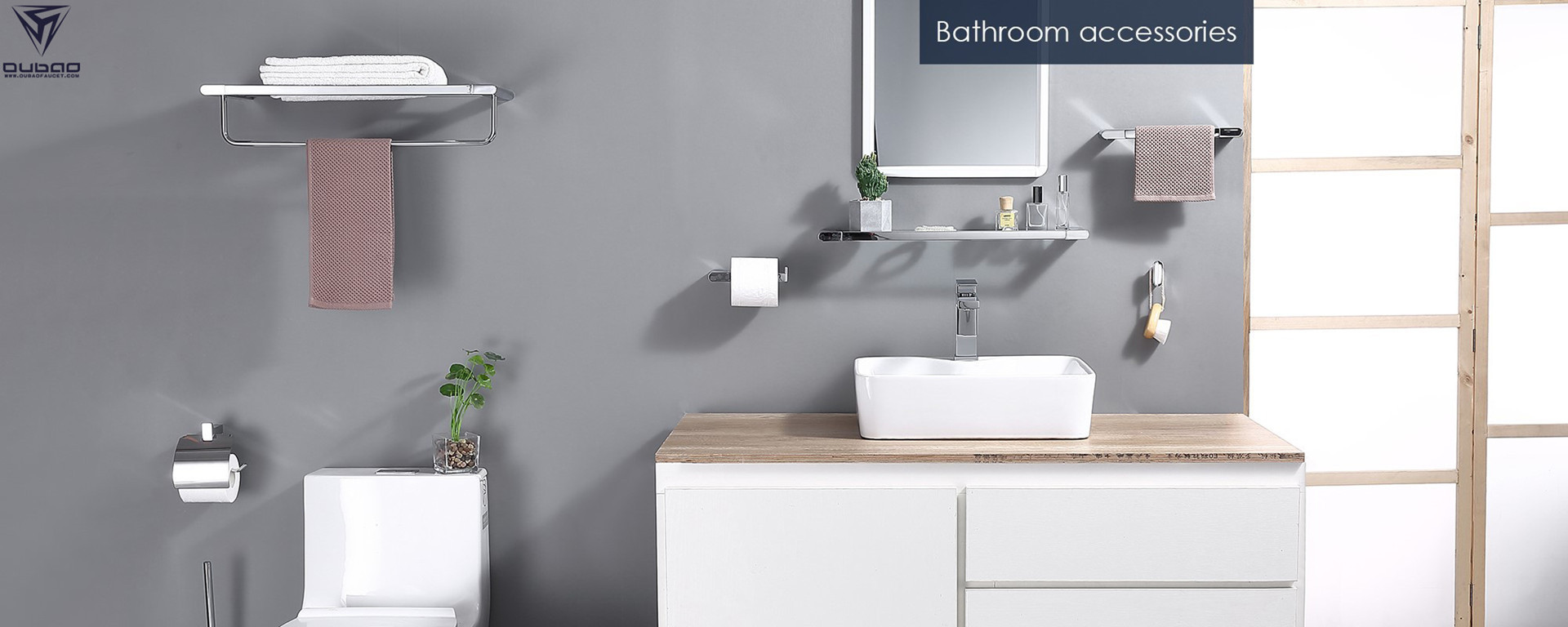 OUBAO Sanitary Ware Products for hotel projects
NEXT - the Latest Design Series for Hotels.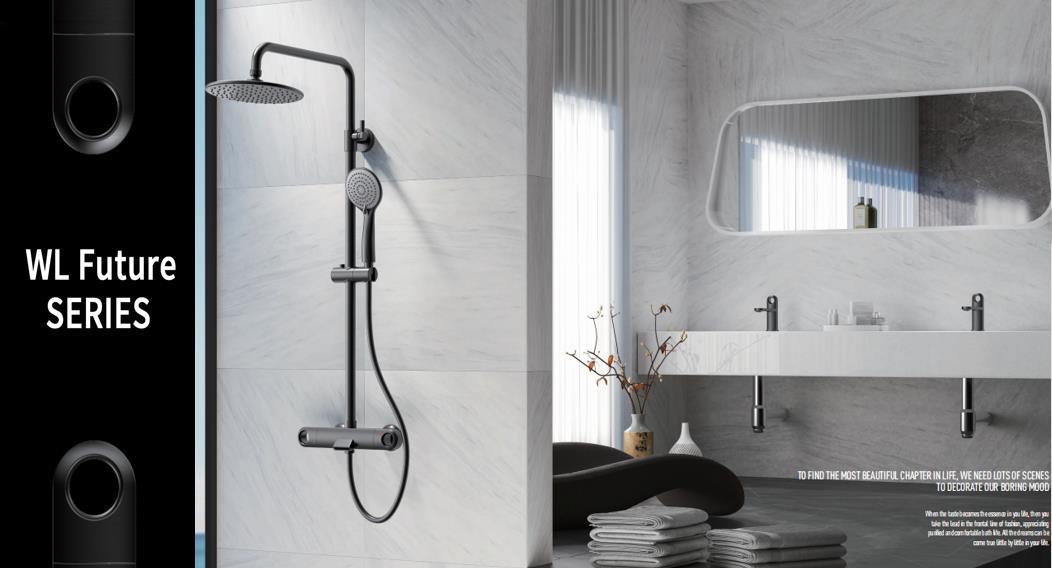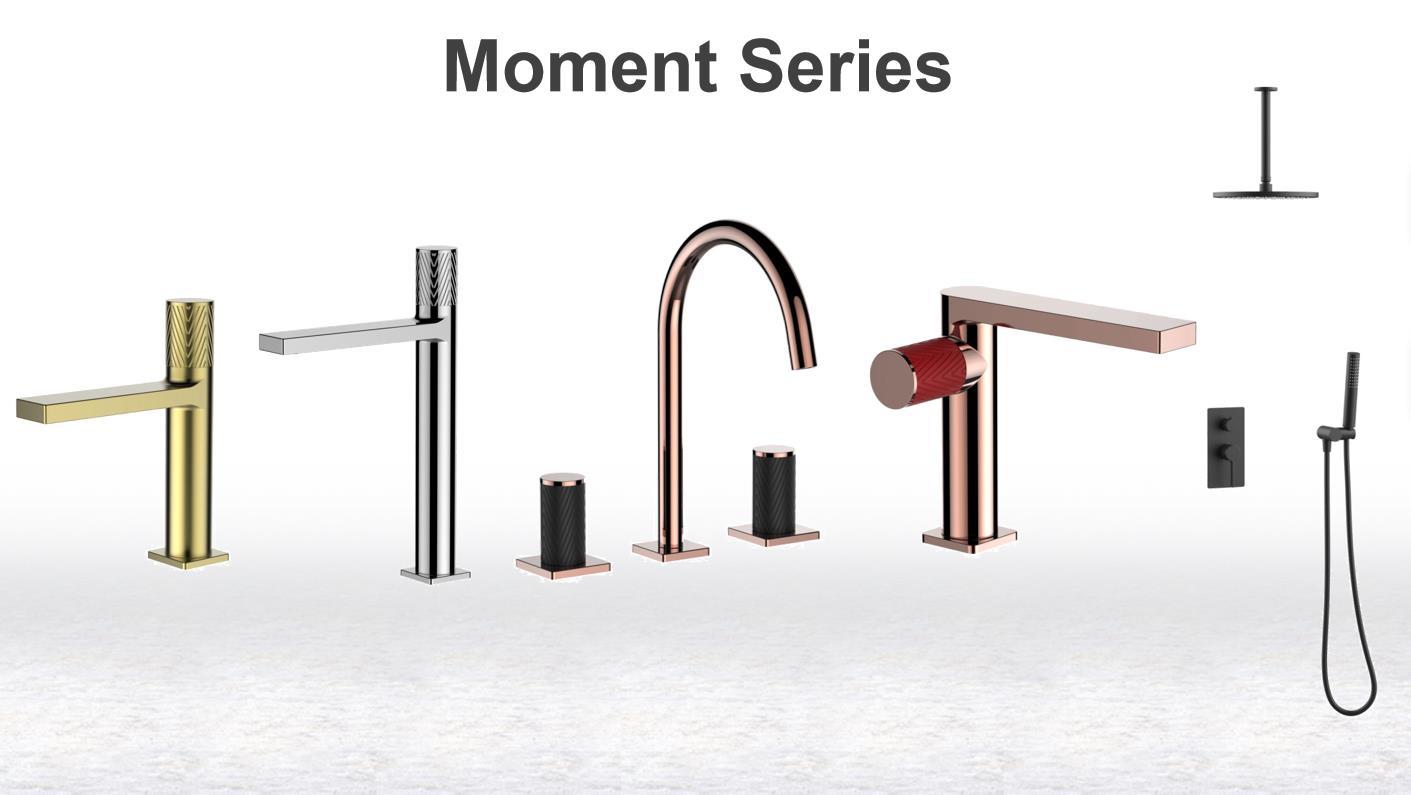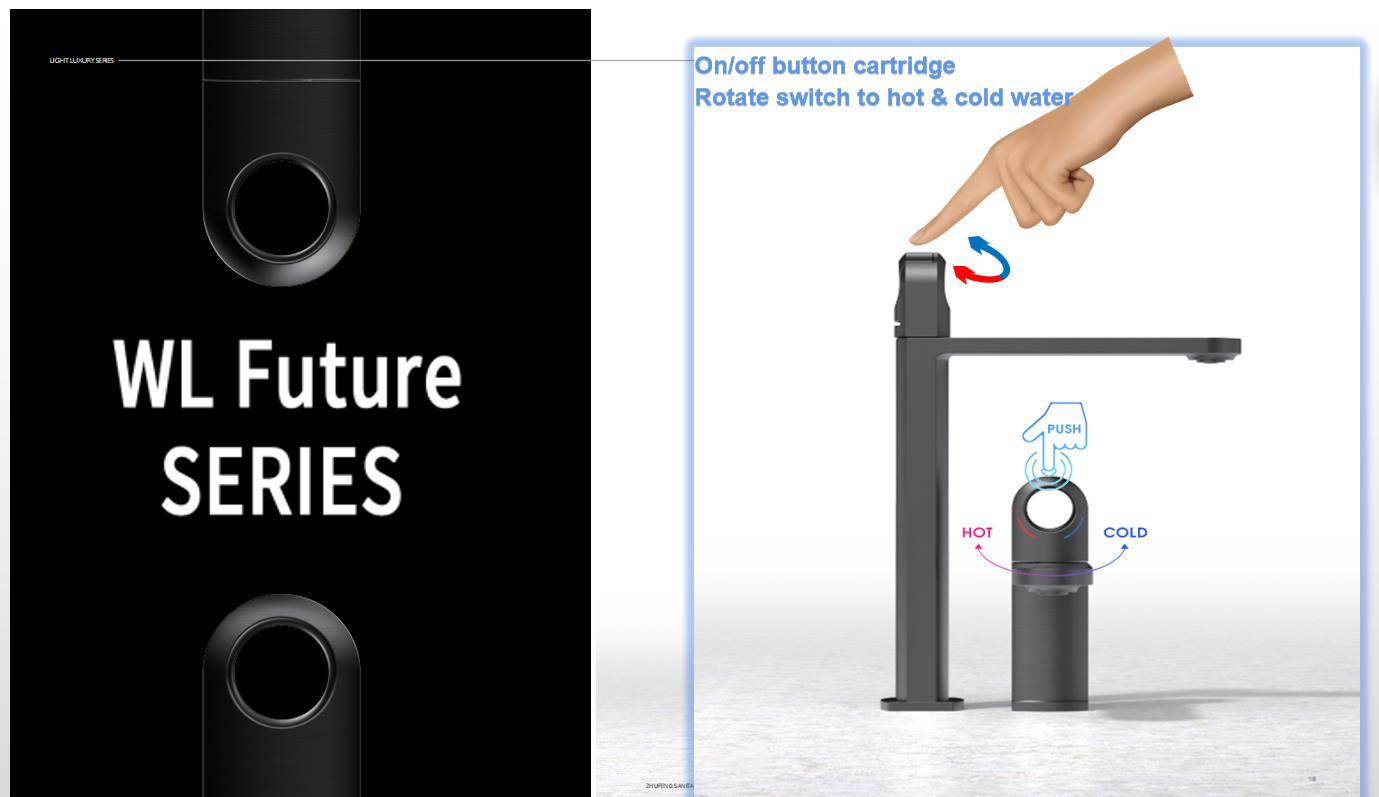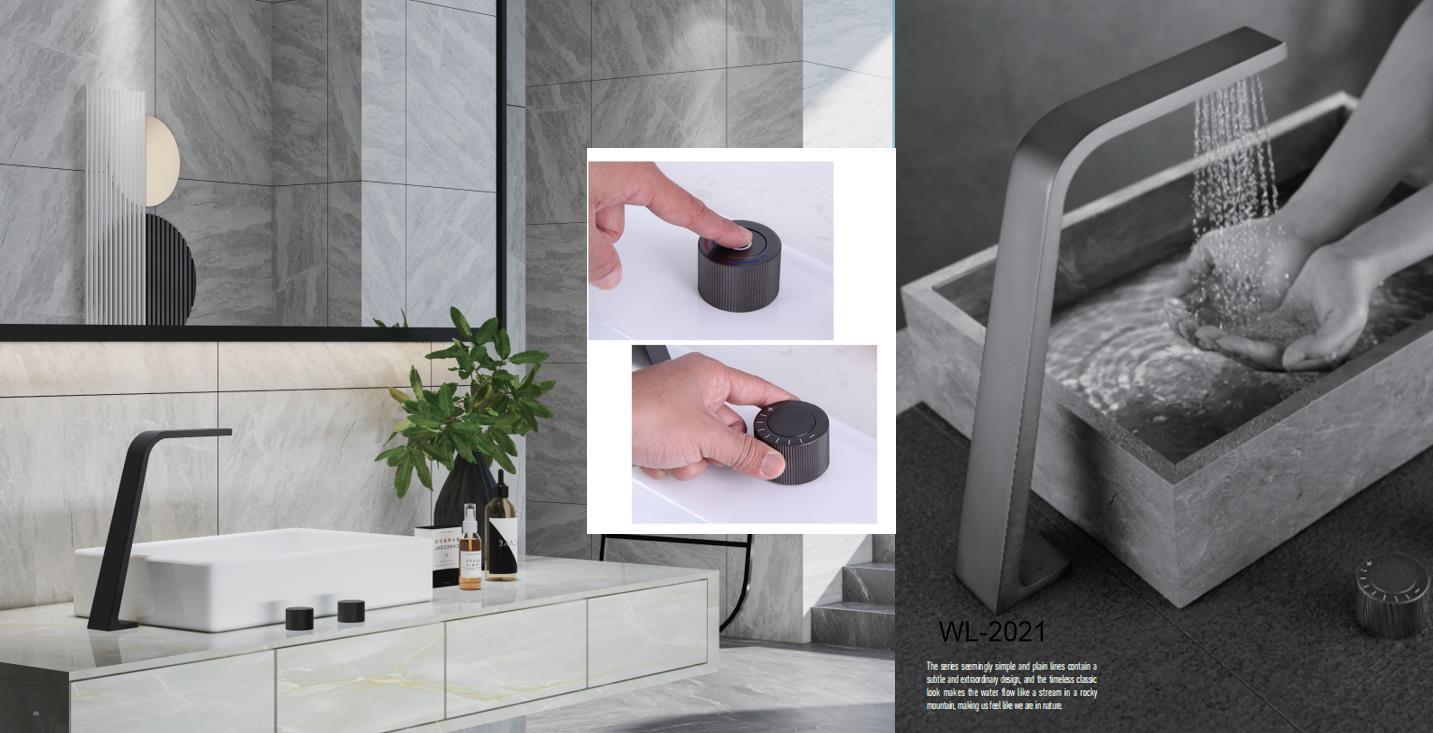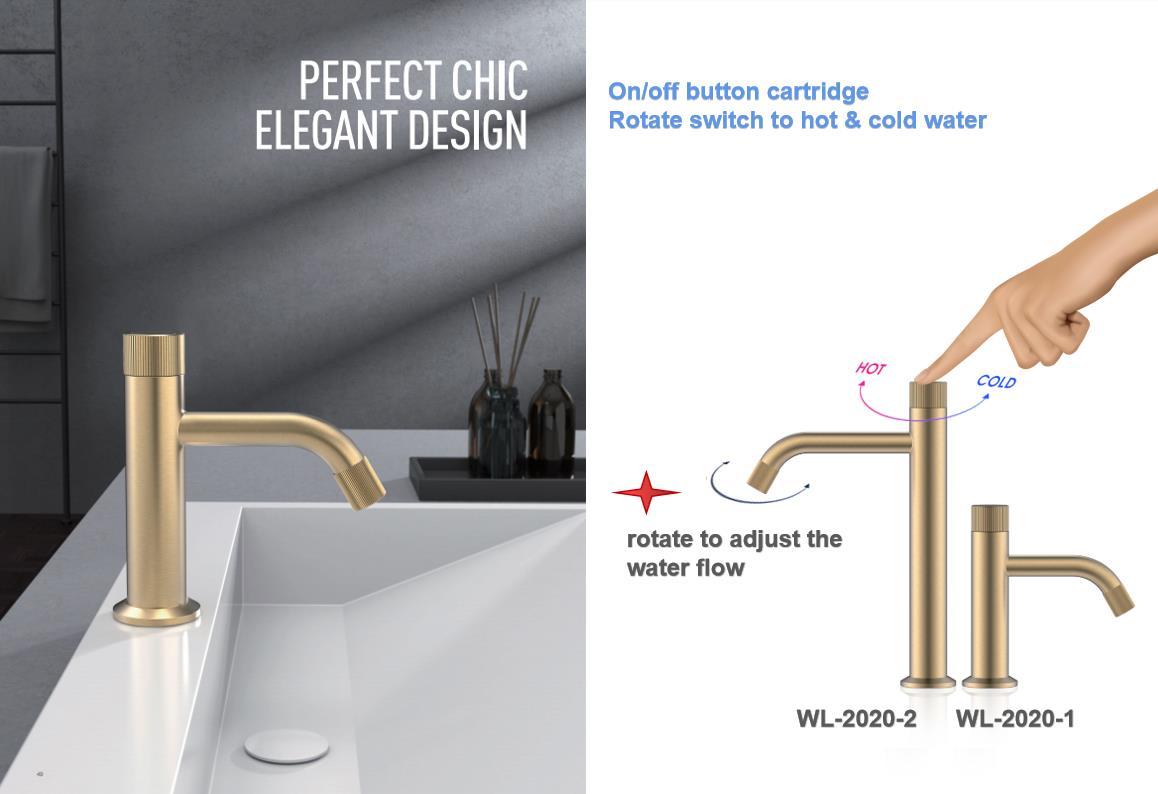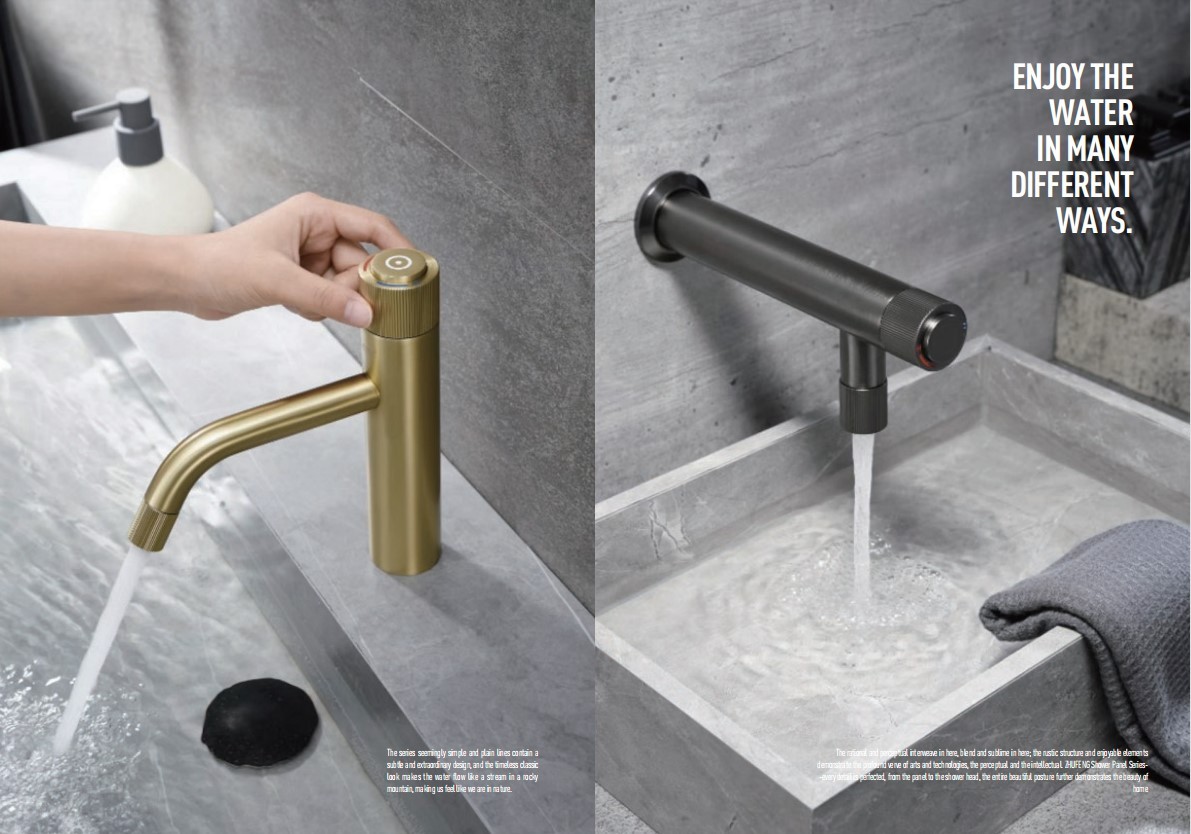 ①Color
And next part is their different products for young group consumers.What styles and colors they like?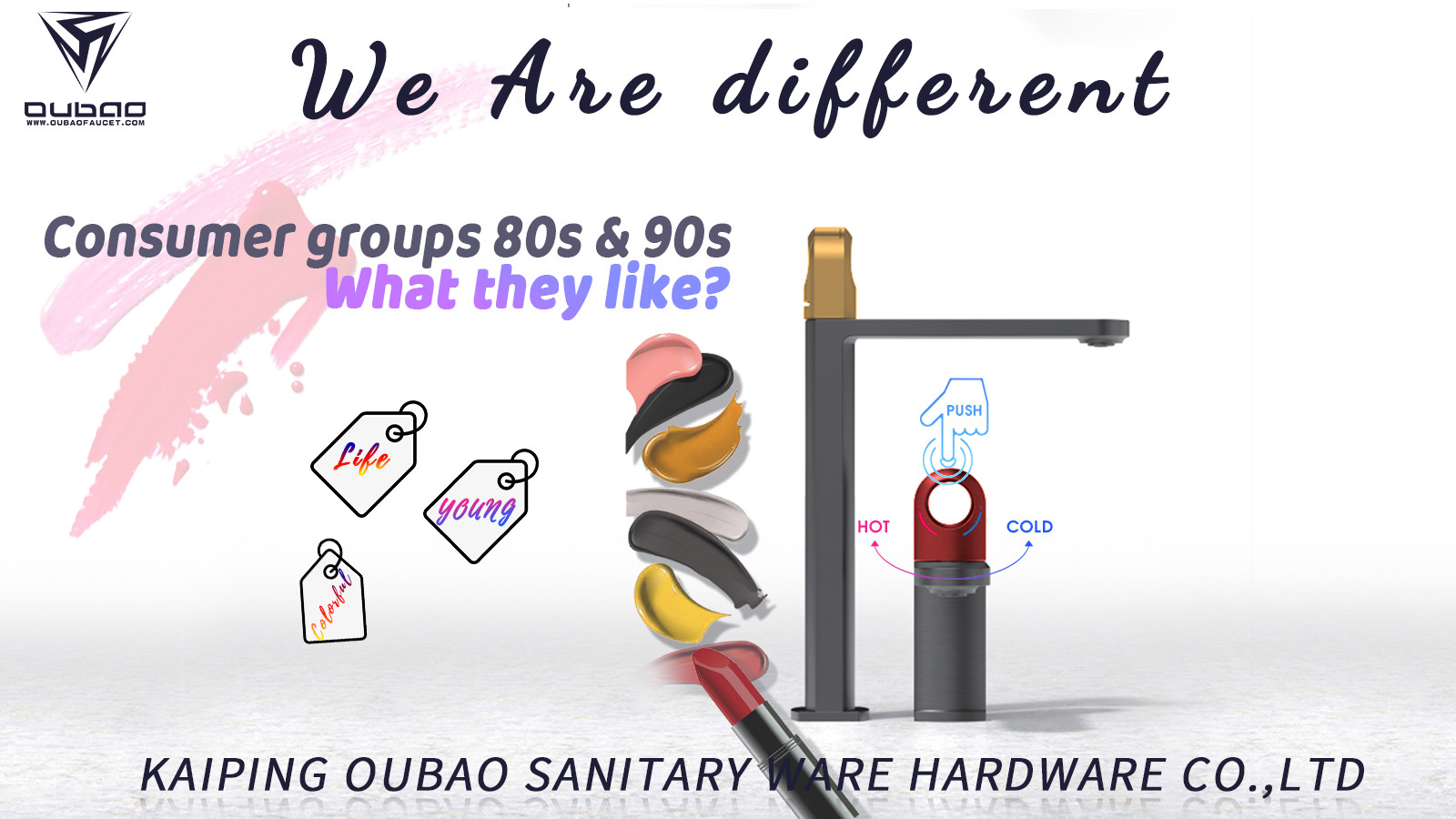 They invite a house Designer as a buyer to talk about the color of products - KIKO.
From the conversation, we learn: Now the age groups of 80s and 90s have their own houses.
The younger generation prefers the products with design, colorful and simplicity when choosing. Because the products of home decoration will choose multi-element and multi-color collocation, the faucet also needs different colors to match the whole decoration style.
With the improvement of the plating technology in nowadays, OUBAO produce many new colors for the market choice.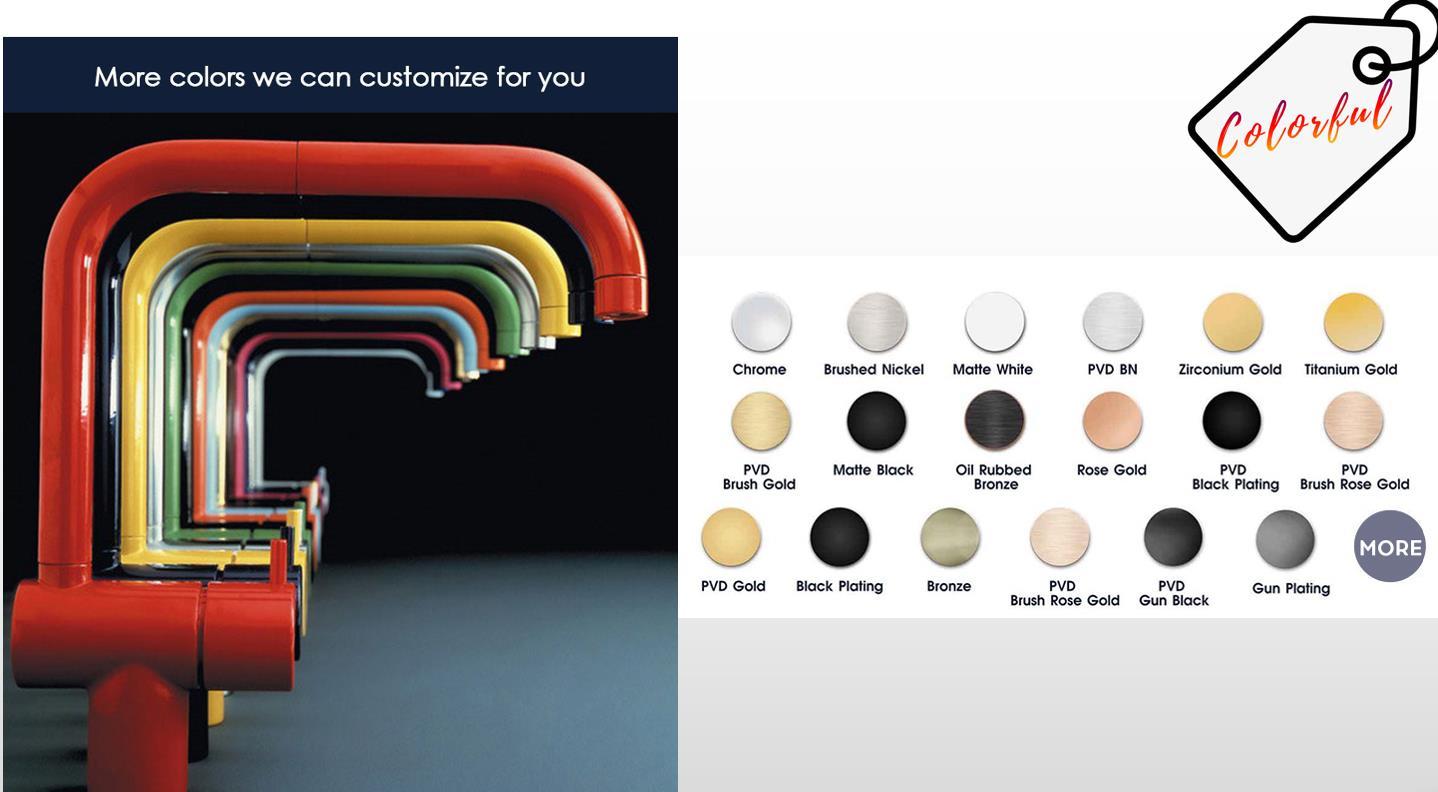 And How do OUBAO guarantee the quality of electroplating?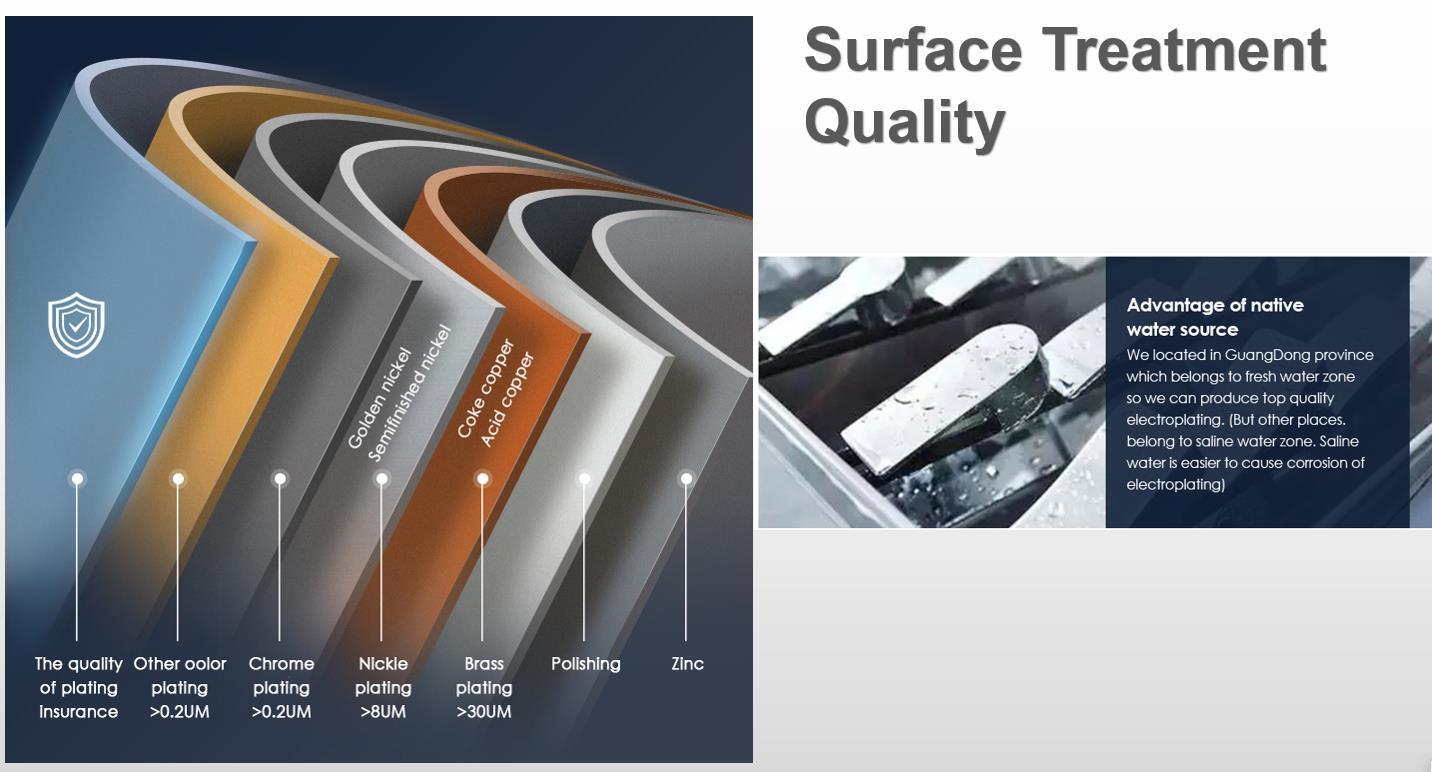 The top layer of quality insurance, we call it PVD coating.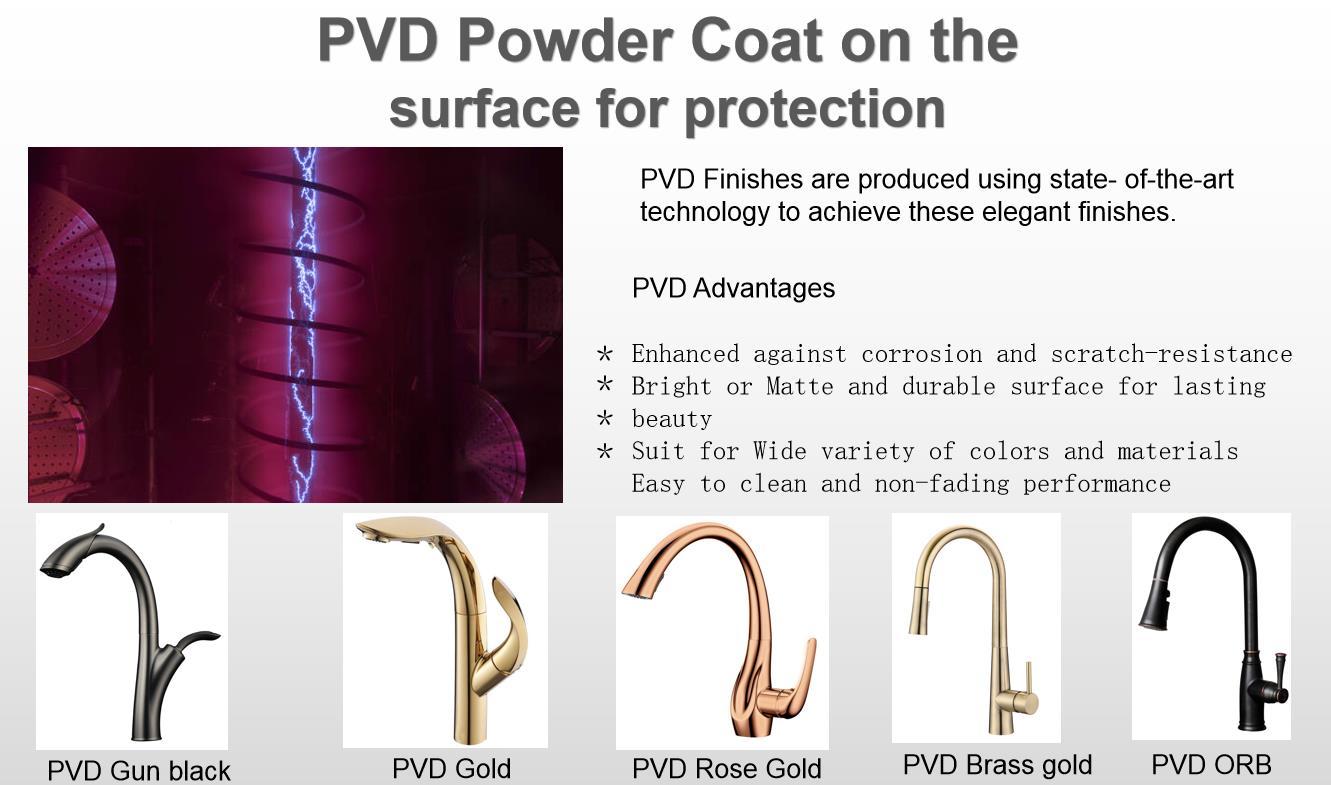 ②Function
Except for colors, young people are more like a product with muti functional usage.
For example we have pull out kitchen faucets with 3 water mode which is more much easier and convenience when you are washing in the kitchen. And the new technology kitchen faucet with touch sensor, 4 in 1 pull out faucet with filter, the basin faucets with new technology cartridge which can be on/off with hot and cold switch.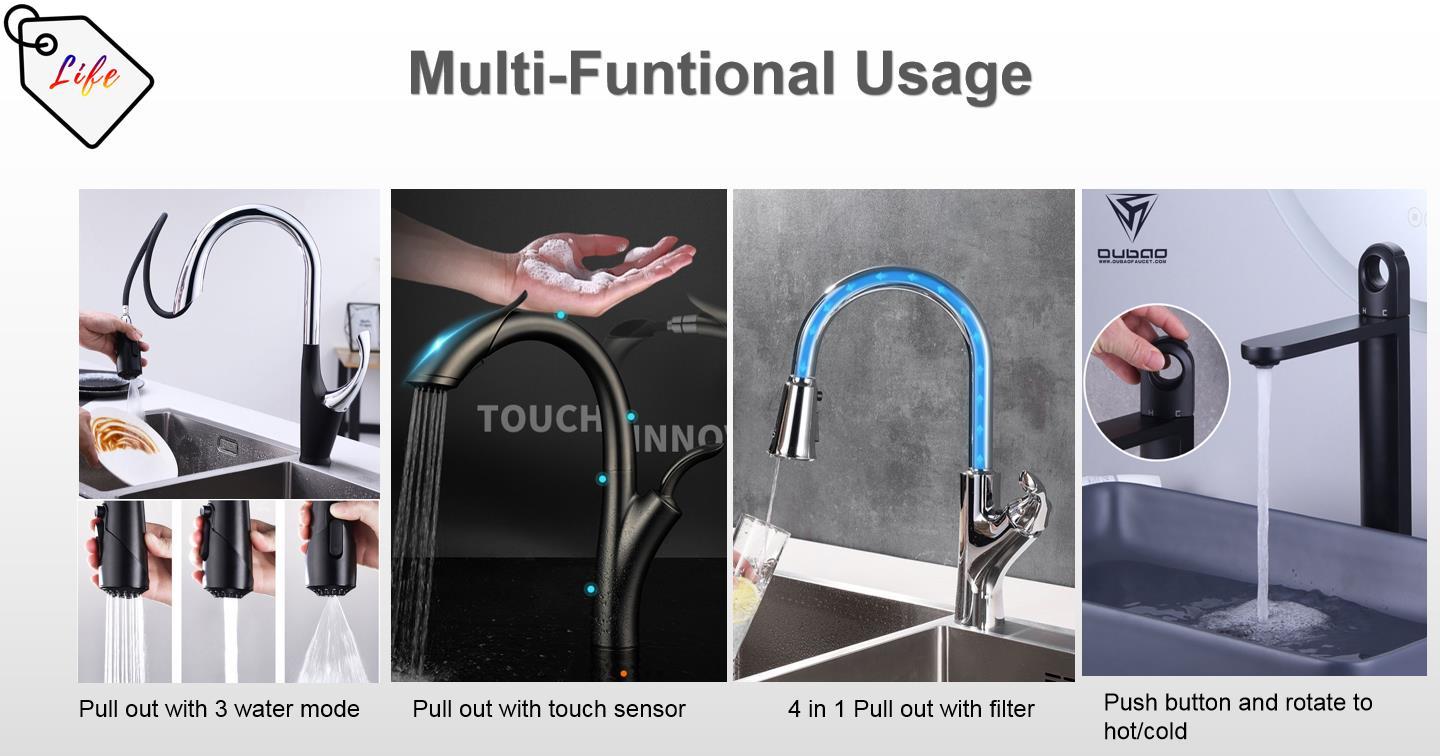 Gunmetal Grey/Black -
Latest and hot color
The solid gray finishes are designed to meet the market's desire for products with a number of custom detail options. The Gunmetal finish is solid and soft to the touch, and mixes a dark gray base with hints of brown.OUBAO recommends the finish for use in Kitchen and Bathroom.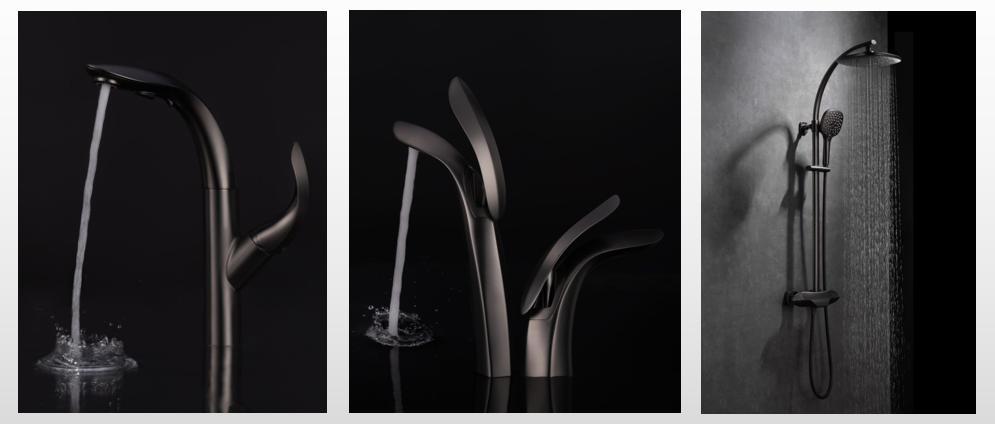 When it comes to the hottest faucet styles of the year, it's no secret that matte black is trending. Matte black is timeless, grounded, and compliments modern decor just as well as transitional or even traditional spaces.
Different with painting black in the past, OUBAO faucets have been improved with Chrome plating technology which as strong as chrome surface
and no wearing off anymore.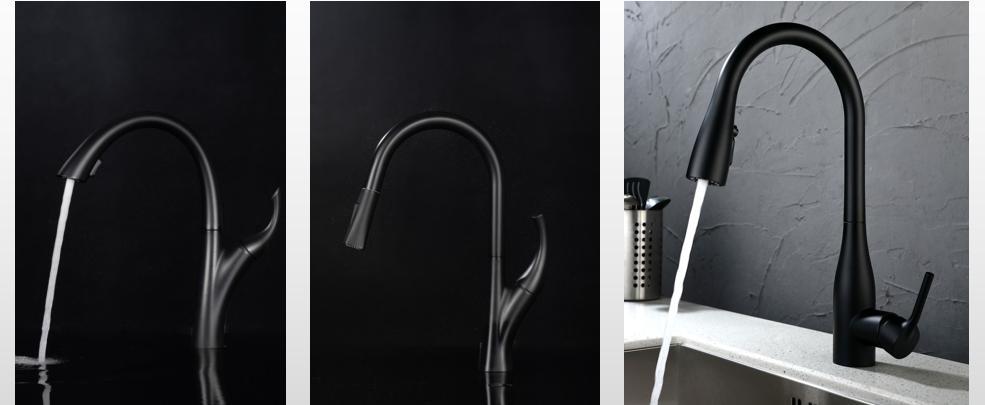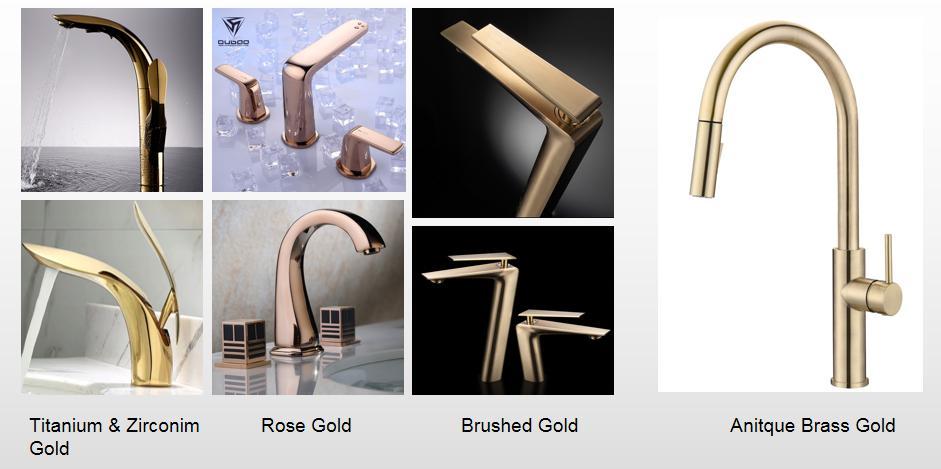 And many other special colors...
Although the faucet is only a part of home decoration, but water and human beings are closely related.
In addition to focusing on the design of the faucet, OUBAO pays more attention to the quality, so that customers feel at ease and have a high level live!
OUBAO faucet, touch your dream life!

New Technology Products - Filter Kitchen Faucets
This part OUBAO is going to introduce the technology faucet - a pull out kitchen faucet with 3 way filter function. Let's look at the sprayer, can you see there's a bigger hole here? This is the hole for the outlet of filter water. Come with the standard function such as stream, push mode, this sprayer has been upgraded with the filter water mode. Call it 3 way.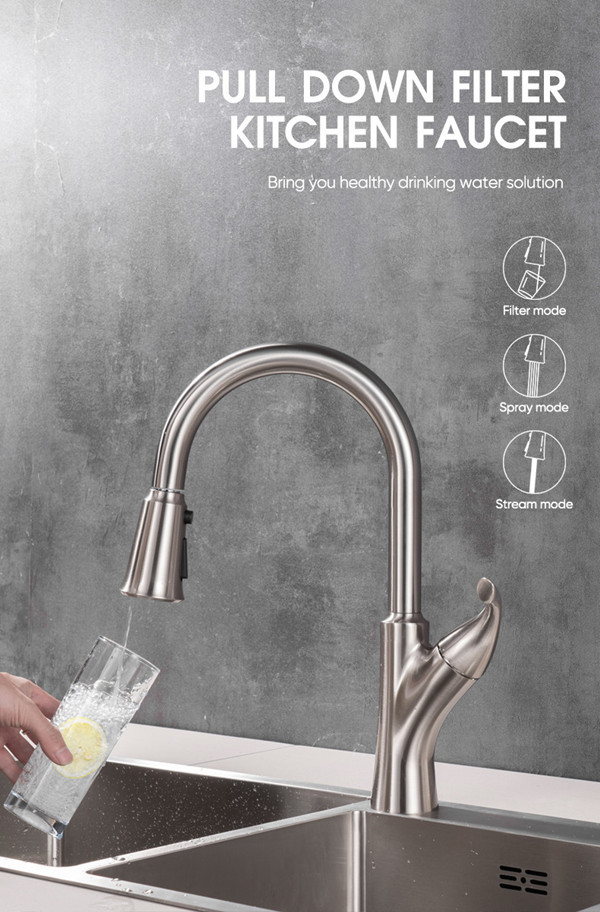 Here is a video that you can see how it works with filter function. And to install the faucet.
How does OUBAO's Filter Kitchen Faucets work?
Is OUBAO Filter Kitchen Faucet easy to install?
From the video,we can see clear of how to handle the faucet especially for the filter mode. Meanwhile, we also know how to install the faucet, right? So what's the advantage of this new technology OUBAO have? Let's look at the picture.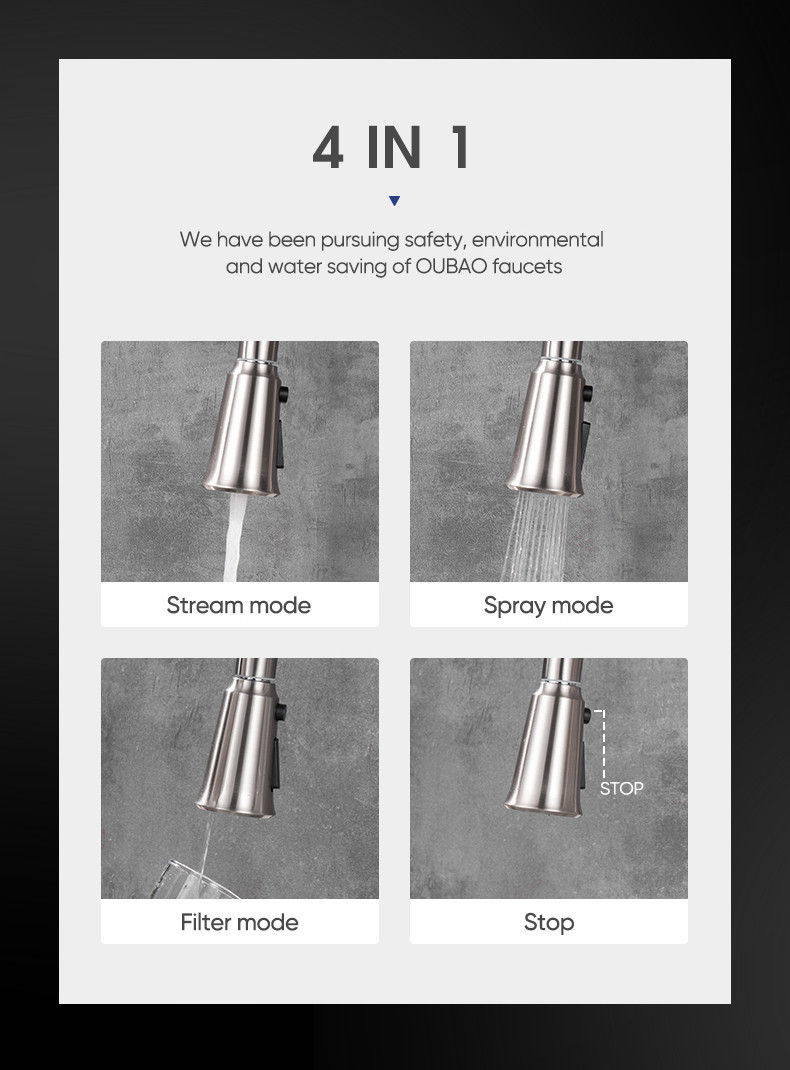 This is a 3 way pull down kitchen faucet with filter function. The sprayer has been upgraded with 4 functions, stream mode, spray mode, filter mode and stop button. And how to control the handle for filter mode?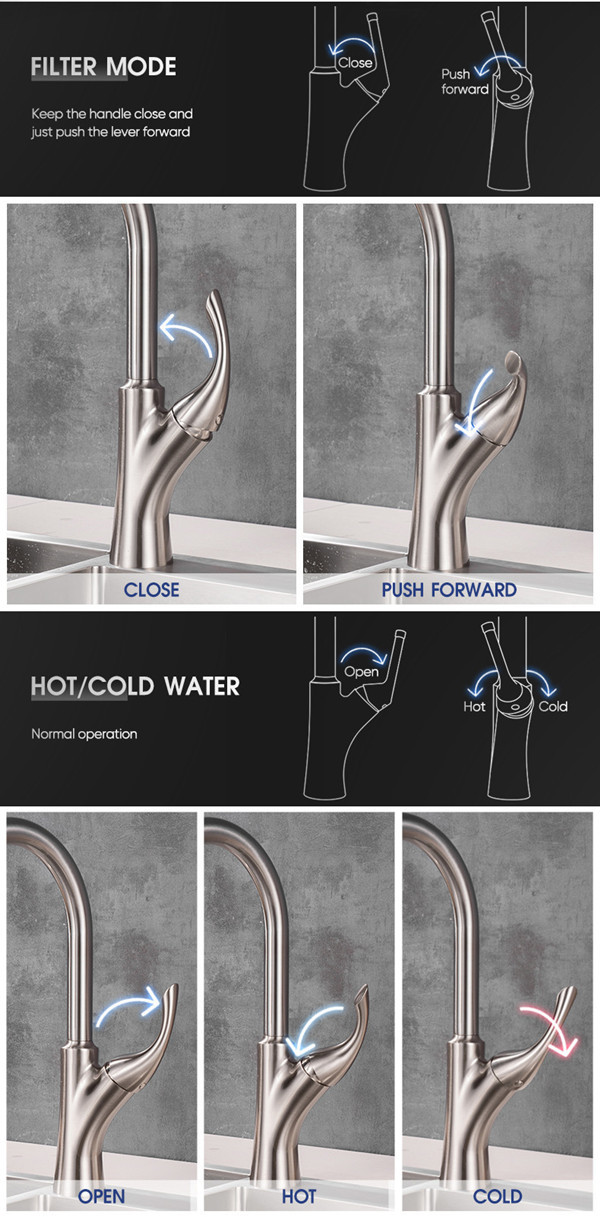 Like the picture shows that we just keep the handle in close situation and then push the lever forward, then we can have filter water out.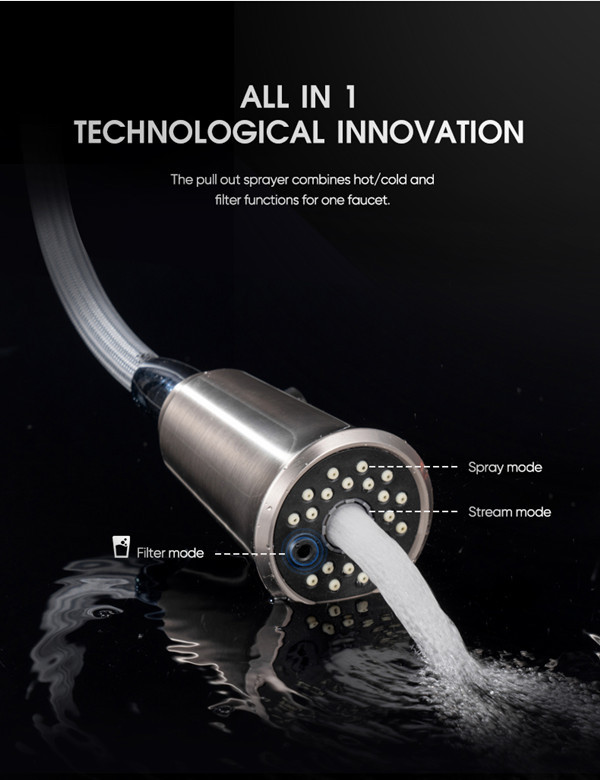 And for the standard hot/cold water, we just control the lever same as normal faucets. Open and close. Move forward and back. And this is to show us the sprayer, just like the one i show you before. There is a bigger hole here, this is the outlet of filter water. And the middle for stream water mode, other small silicone nozzles for spray shower mode.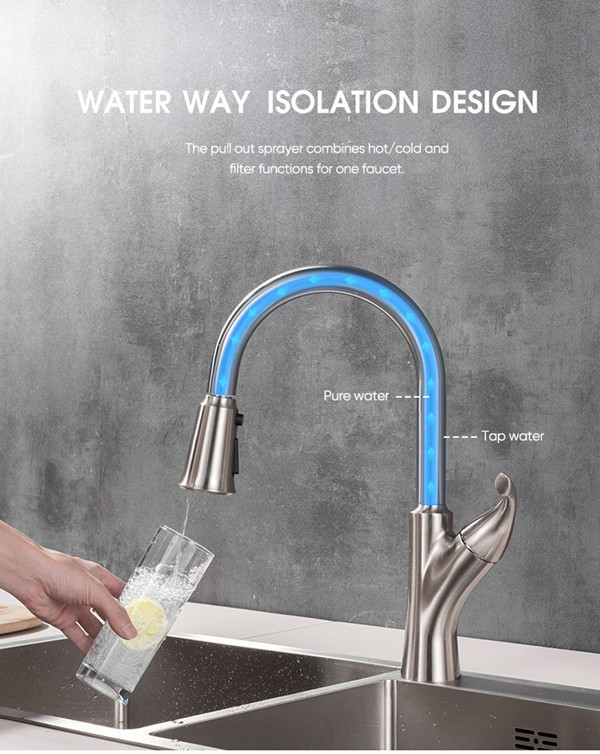 And this is show us the isolation design on the elbow pipe. As we know the normal kitchen faucet they only have one outlet way, but this faucet design with two isolation way. One is for normal hot/cold water, the other one is for filter outlet. So to make sure the drinking water can't be mixed.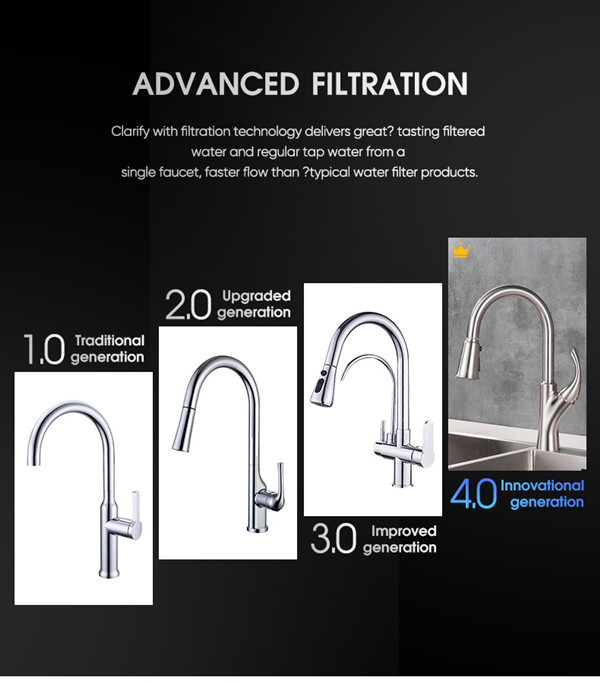 This is the advanced filtration design.
OUBAO Filter Kitchen Faucets are the latest No.4 generation here.
The first generation is for simple function without pull out sprayer and filter function. The second generation is upgraded with pull out sprayer but only for normal hot and cold water function. The Third generation is for a complicate design with a pull out faucet and one more spout for filter outlet.
But this kind of faucet is expensive because the production process is difficult and complicated. And the 4th generation is the simple pull out kitchen faucet with filter function, all come into one faucet but lower cost.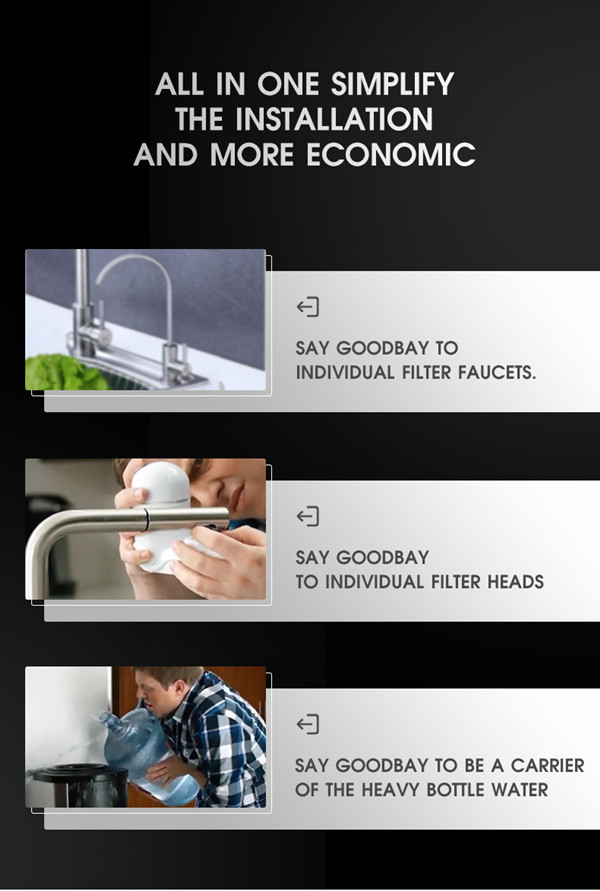 And the last picture shows us all in one simplify the installation and more economic. Like Say good to additional filter faucet. In the past if we want to have filter water, we have to buy one more faucet only for filter, and we need to install 2 kitchen faucets on the sink. So 2 faucets need a bigger space in the kitchen and cost more money.
Now our filter faucet can help you save the space and money. Say goodbye to individual filter heads, And say goodbye to be a carrier of the heavy bottle water.
This is the whole content that OUBAO shows us in this live streaming.
Here are so many new designs today, and which one you like? If you want to learn more about of it, pls don't hesitate to contact.
E-mail: sales@oubao-cn.com
WhatsApp / WeChat / TEL : +86 13422554096